What are community college Guided Pathways? 
What you need to know to get started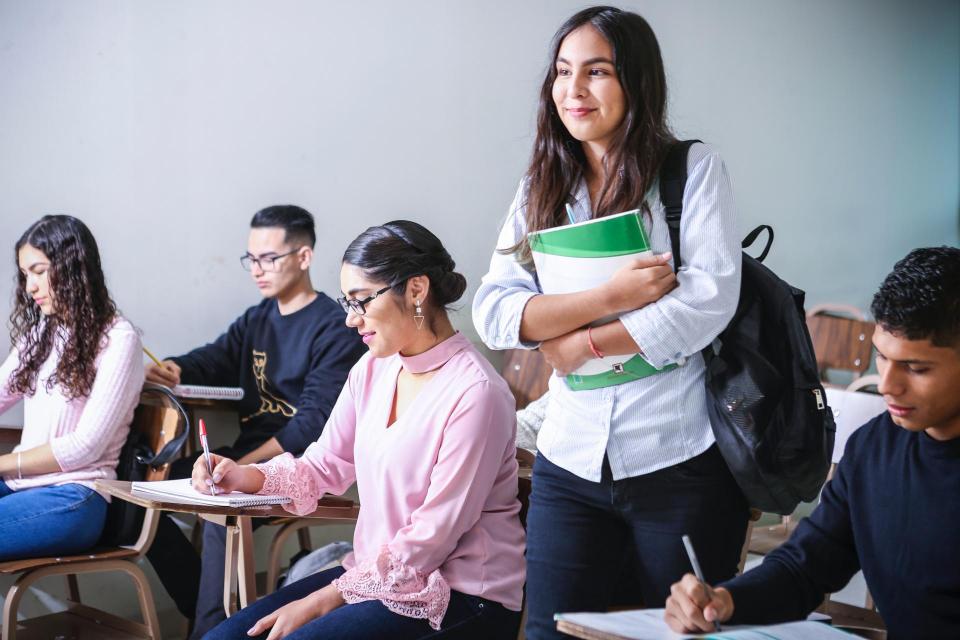 For so many people across the country, community colleges are a gateway to a brighter future and a better life.
Community colleges offer a wide range of programs, courses, and transfer possibilities at a price point designed to empower equity and access. Still, with such a wide variety of options and opportunities available, it's really easy for students to get lost along the way or lose sight of their goals before they have the chance to achieve them.
Recently an exciting, new approach emerged that is drastically transforming community college outcomes and experiences: Guided pathways.
In this post, we discuss the guided pathways model and outline best practices that will help you better support students through your college website.
What are Guided Pathways?
The guided pathways model is an institution-wide approach designed to simplify and enhance the entire student journey by providing much-needed structure and support, based on each student's individual needs, interests, and career goals.
Specifically, guided pathways help students by focusing on four core initiatives:
1. Create a clear path to student academic and career goals
Why is this important? When community colleges were initially introduced, enrollment was the primary objective. However, while providing greater access to college-level education was a noble goal, we learned over the years that access alone was not enough. Students who engaged in community college were quickly faced with some really tough questions and limited resources to find answers.
"What academic program fits my path?"
"Do the courses I'm taking apply to major?"
"If I change majors will my credits apply?"
"How do I transfer?"
"How do I get help?"
How do guided pathways accomplish this? Guided pathways move schools from the "cafeteria college" model where students can do nearly anything but have to figure it out for themselves, to a new, intentional model that offers programs that are fully mapped out and aligned with further education and career advancement.
Larger meta-majors and simplified student choices. The addition of meta majors is extremely helpful for students who are on the fence or unsure of what exactly they want to study. By having larger default options to choose from, students can confidently begin with an area of interest that appeals to them and narrow down or adjust their path as needed without fear of wasting valuable time and credits.
Detailed program maps. Program maps are key to the guided pathway approach. They outline which courses a student should take and the sequence they should take them in for each program. This allows students to pursue their dreams without fear of accidentally drifting off-track.
Transfer pathways. Transfer pathways take the guesswork out of the equation for those who are interested in moving on to a 4-year school. They empower students to take courses that align directly with the 4-year institution they want to attend and the program they want to pursue.
2. Help students enter their pathway
Why is this important? To truly help students succeed, community colleges must meet the student on their level and help them on-ramp to the right path for their goals. To do this effectively, community colleges must:
Intuitively guide students to the academic program that aligns with their interests and career goals.
Proactively address any remediation needs a student might have so they are equipped with the tools required to effectively pursue their dreams.
How does guided pathways accomplish this? Guided pathways rely on technology, collaboration, and support to transform the traditional intake and student support process. By utilizing the following, community colleges can ensure that students find the right program for their needs and that they are prepared to pursue it with confidence.
Improved assessments, placement tools, and onboarding process. Guided pathways encourage the use of improved assessments, placement tests, and process to provide students with the clear, actionable information they need to get to the right start in college.
Bridge K12 to higher education. By developing stronger K12/higher ed partnerships, guided pathways help students begin the remediation process in their last year of high school so they don't end up spending their first year of college in the discouraging position of paying for courses that provide them with zero credit.
Redesign traditional remediation as an "on-ramp" to a program of study. Rather than send students to an arbitrary menu of remedial courses, guided pathways recognize the importance of positively shaping the early college experience by aligning math and other foundation skills coursework with a student's program of study.​
Career research tools. By utilizing online career assessments and research tools, students can gain an understanding of what career best suits their interests, what the availability of jobs in that field looks like, and even what they can expect to earn. Once they've narrowed a career path, selecting the right academic pathway becomes much easier.
Academic program exploration tools. By creating an online tool that allows students to discover and research all academic programs by interest and credit options, students (and parents) are empowered to engage in helpful research and make important decisions before the first visit with a counselor.
3. Help students stay on the path
Why is this important? Access alone isn't enough. When students reach a point of frustration or confusion, it is too easy to walk away before they reach that goal.
How does guided pathways accomplish this? By utilizing support tools and accountability measures, colleges can spot issues earlier and increase graduation rates. Guided pathways recommend the following:
Proactive academic and career advising. Colleges can improve student outcomes by making sure that the advising process is embedded throughout the student journey through completion. Set it and forget it just isn't enough for our community college students. It is critical to establish academic plans with predictable schedules, monitor their progress, and intervene when they go off track.
Early alert systems. Guided pathways recommend using technology
 aligned with interventions 
and resources to help 
students stay on the pathway, 
persist, and progress.
4. Ensure that learning is happening with intentional outcomes
Why is this important? The guided pathways model is dedicated to much more than simply improving graduation rates. It is a holistic approach that seeks to improve student lives by giving them the tools they need to succeed in a career that fulfills them. To follow through on this mission, community colleges must ensure that learning is happening with intentional outcomes.
How does guided pathways accomplish this? By introducing a new focus and collaboration, colleges have the potential to drastically improve the classroom experience. Guided pathways recommend the following:
Establish program-level learning outcomes aligned with the requirements for success in employment and further education in a given field.
Integrate group projects, internships, and other applied learning experiences. Studies have continually shown that these activities both enhance instruction and student success.
Ensure incorporation of effective teaching practice. A continuous focus on improvement is critical. By better monitoring student performance, colleges can see what is working and establish a positive feedback loop that is beneficial to both the student and instructor.
[Video] How guided pathways impact students (5 min)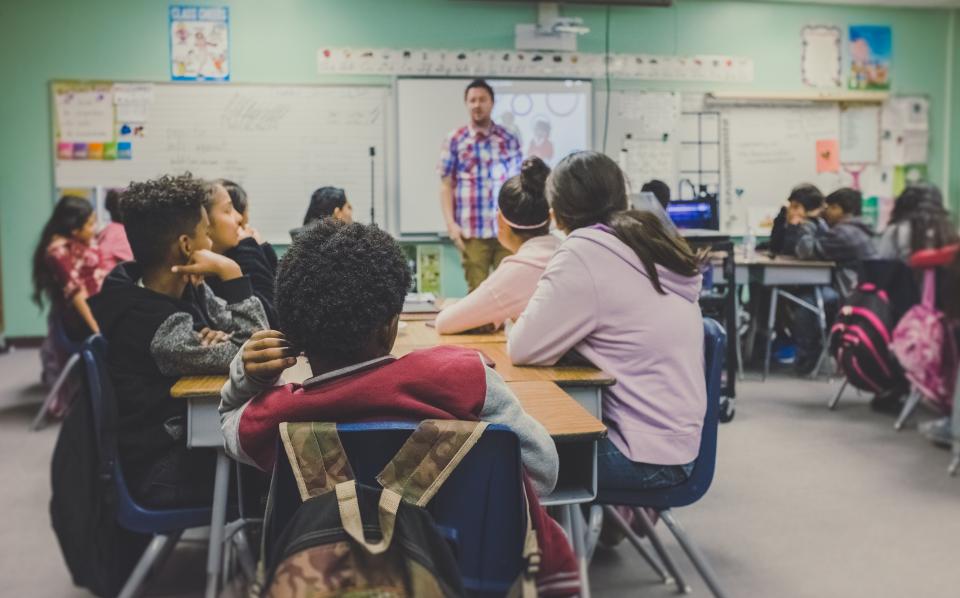 Top four ways guided pathways transform the student experience
Less confusion and more clarity about the steps toward completion and course-taking behavior.
More guidance from counseling or advisory early in students' journeys.
Greater likelihood of completion, as a result of:

Improved placement
Basic skills/developmental education reform
Reduced unit accumulation

Improved chances for transfer and career placement.
Getting Started: How to bring guided pathways to your community college website
Becoming a "pathways college" is a significant undertaking, but don't feel overwhelmed. Here are some really impactful ways that can help you use guided pathways to improve your website:
1. Make it easy to explore your academic programs by interest
Developing an academic program exploration tool is a critical first step toward helping students achieve their goals. By developing a tool that guides students to their academic program by interest, you will empower them to see the world of opportunity in front of them and pursue the right course of study for their personal goals. As you build out this tool, be sure to make the exploration experience visual so students are encouraged to spend time with it and easily review their options. Sierra College's program finder does this well.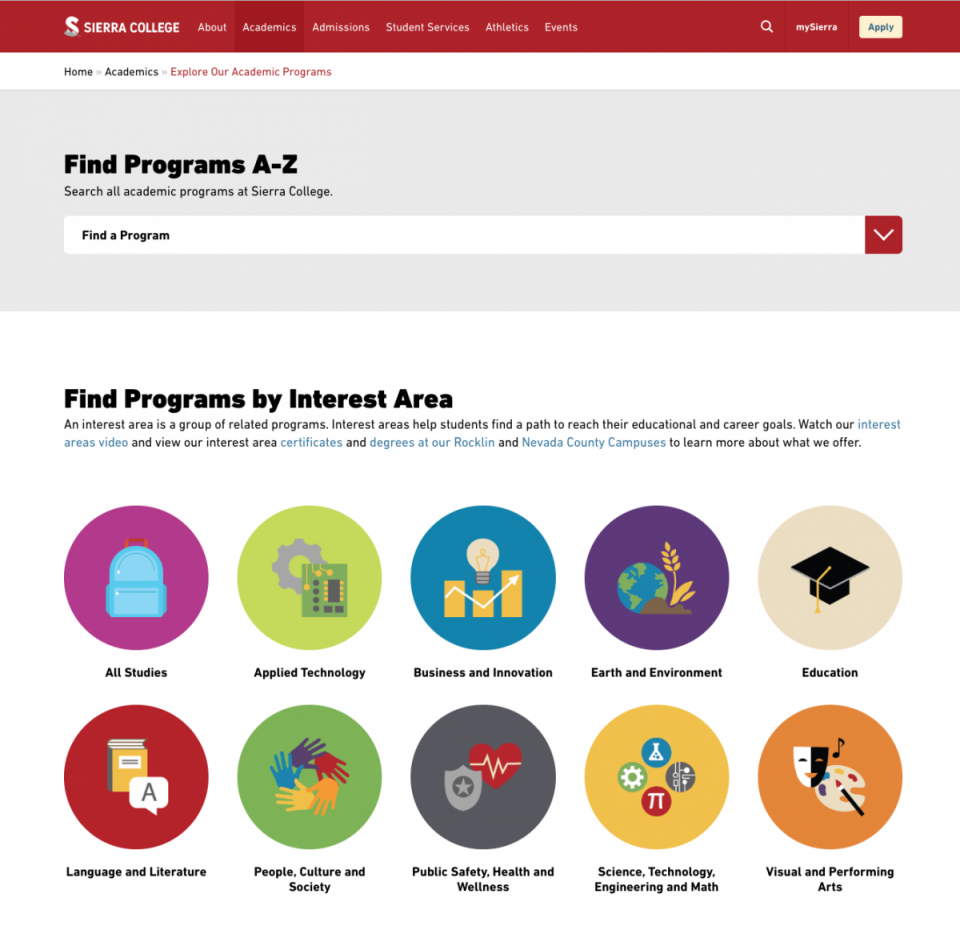 2. Provide easy access to career exploration & planning tools
Many prospective students won't have spent much time planning or exploring their career. Accordingly, your website must provide the tools to guide them to career assessments, salary data and more. Several excellent software tools can be embedded or directly linked to from your site. In the example below, Sierra college has utilized ESMI's career coach tool to help educate students about their options.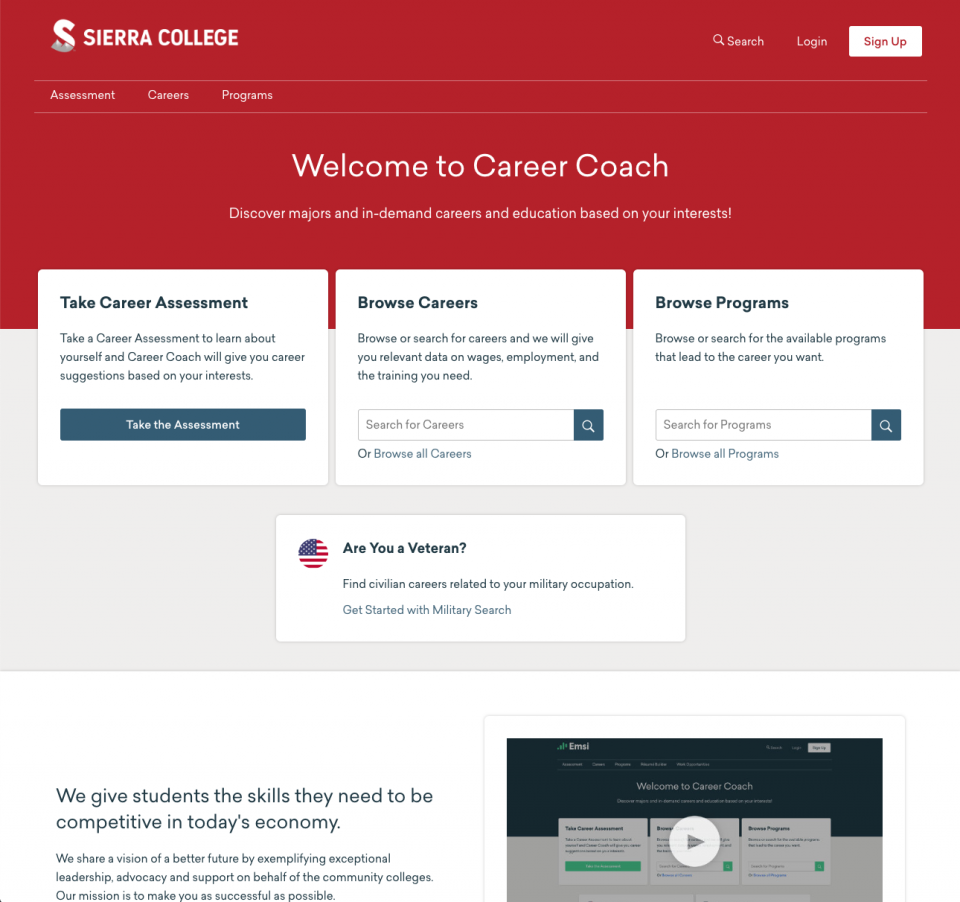 3. Develop intuitive program maps and make them easy to find
While not quite as flashy as an academic program exploration tool or a career coaching software, program maps are the backbone of the guided pathways approach. They need to be easily accessed and reviewed directly from each academic program page. Program maps should be designed with clarity in mind. Be sure to specify the sequence of necessary coursework and the number of credits expected per term so students aren't left with any questions. Additionally, we recommend linking each course number to the course description in a separate tab so students can learn more about their course options without navigating away from the program map.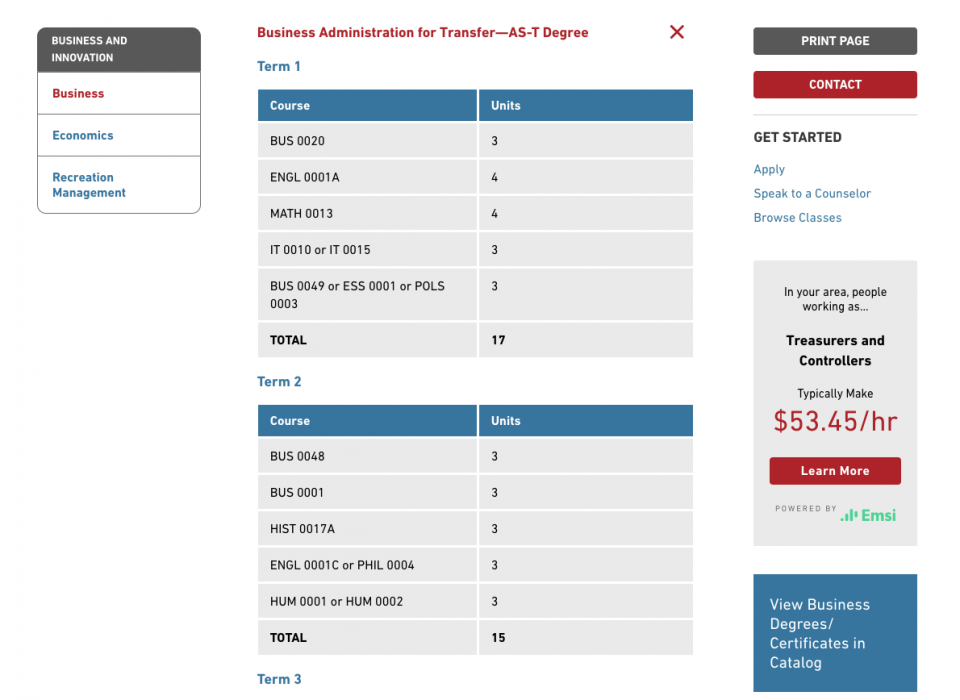 4. Incorporate helpful onboarding and support tools throughout your website
As we've discussed, the student journey is complex. To ensure that guided pathways are successful, it is important that the website proactively onboard each student and provides them simple ways to reach out for help when needed. Long Beach City College's welcome center is an excellent example of a tool designed to keep students on track.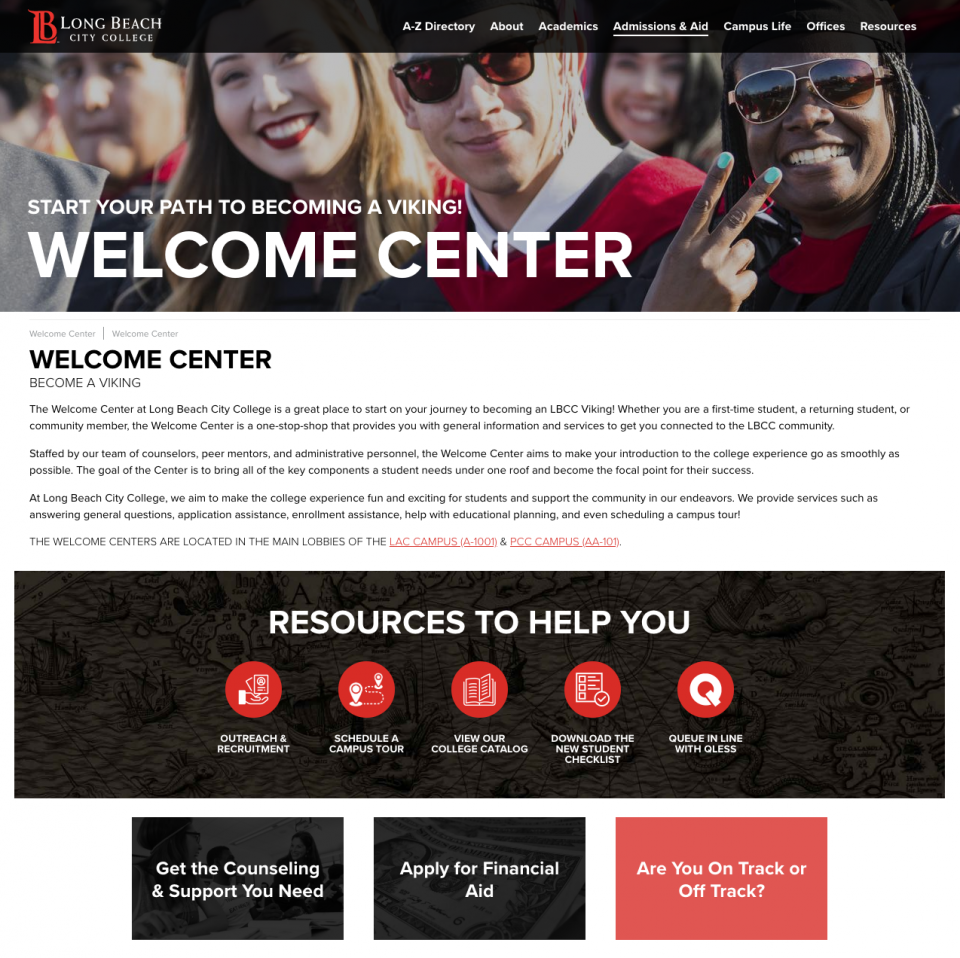 The future of guided pathways
Guided pathways require a lot of planning across campus, but the good news is that they are not a fad. Support for guided pathways is only growing. In California, the 2017 State Budget committed $150 million in one-time grants to seed the expansion of the Guided Pathways framework across the California Community Colleges over the next five years. All 114 California Community Colleges are eligible to receive award funding.
Additionally, other states are following in their footsteps. Washington, for example, is already making progress toward providing similar funding and legislation.
Have questions or feedback to share?
We are committed to helping community colleges transform the student experience by implementing guided pathways on their websites. If you have any questions about this topic or anything else related to your website, feel free to reach out. We're always happy to help!