The secret to building member engagement and success early
Focus on key life events and milestones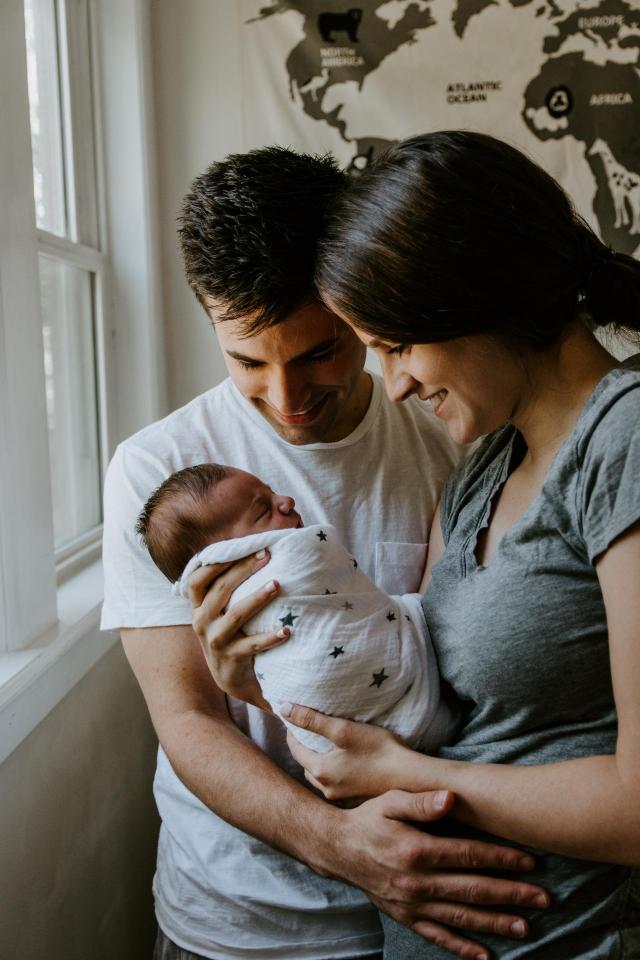 [This is the second of a series of posts on the latest data-driven design trends for retirement systems.]
As we alluded to in our first post of the series, member engagement consistently trends upward as members get closer to retirement. The reasons are obvious: members nearing retirement start fantasizing about a life untethered from phrases like "work-life balance" and begin paying attention to what it will take to make the jump to their next phase. Meanwhile, new retirees suddenly become very interested in monitoring those pension payment dates and finding out what kind of COLA they can expect.
That's great. However, as the team responsible for setting retirees up for success, we know that early member engagement leads to a better pension experience, healthier long-term retirement decisions, and (selfishly) fewer customer service requests over the lifetime of the member.
So, what's the secret to building member connections earlier in their careers? Build a quality experience around key life events.
What are life events?
Life events are the moments when members face a critical shift in their lives. These moments can be positive, like a new job, a marriage, or the birth of a child. They can also be more challenging, such as a divorce or the loss of a loved one. In either case, these are the times when non-retired members will be looking for answers.
If you're able to meet members with empathy, understanding, and thoughtful guidance, you'll build trust and create new opportunities to reach them earlier in their careers.
Put yourself in the member's shoes
No one inherently understands what a phrase like "reciprocity" means, or what specific form they need to download to update their beneficiaries. Members simply have questions (for example, "Now that I'm married, how do I add my spouse to the plan?") and are looking for answers.
As you write your life event content, take this into account. Also, consider the appropriate tone and any other related questions that members may not have thought to ask. Your members will appreciate it.
Here's a cheat sheet for a few of the top milestones:
New hire
Tone & messaging: New or potential employees will often look to their retirement system website. This a hopeful time when they need to feel welcomed and assured that your pension plan is going to meet their needs.
Messaging:
Onboarding: Be sure to include any materials pertinent to new members. A clean and clear onboarding will empower members by helping them fully understand their plan and build a strong connection early on.
Reciprocity: Share any details they might need to know if they are coming from a previous employer that was part of a reciprocal system. As I mentioned above, we know what reciprocity means, but they might not. One quick way around this is to ask if they're coming from another pension plan, and then provide the appropriate guidance.
Member Portal: Finally, if you have a member portal, help them understand all of the self-service opportunities that it can provide.
Establishing a great experience with new hires early will build trust and understanding. It will also make them more likely to return to your website when new questions come up.
Marriage
Tone: The member and their partner have just started their life together. Congratulate them!
Messaging: Members probably know they need to do something regarding their pension plan, but might not be sure about the specifics. Take this moment to:
Cover the basics: Guide them on what specific proof of the event they need to provide and make it easy to add their spouse as a beneficiary.
Bonus opportunity: Some systems have supplementary plans that members can contribute to. This can be an excellent moment to point out these options and encourage long-term planning.
Change in employment
Tone: Voluntary or otherwise, changing employment is a substantial shift that brings up a lot of questions. Proactive, straightforward answers are best for those in this stage of life.
Messaging:
Vesting: Is there a vesting period the member should know about before they make a decision to leave?
Offboarding steps & checklists: Be proactive by highlighting any key forms or checklists that members may need to know about when leaving their employer.
Ready to retire
Tone: This is the day your members have been waiting for. Congratulate them and help them embark on their journey!
Messaging:
Estimates: Members nearing retirement will be very interested in finding out what their monthly pension payment is going to look like.
Deadlines: Often the retirement process is something that needs to be initiated well in advance of a member's actual retirement date. Make sure members are aware of this and any other specific deadlines that apply.
Checklists: Providing a centralized, step-by-step guide to retirement is a must. Make sure it is easy to find, download, and print.
Webinars and seminars: Video is a powerful resource. Record your pension seminars and make them easy to find from this section of the site.
Contacts: Once members have had a chance to self-serve, they'll likely have additional questions. Make sure it is easy to find the right person or department to contact when this need comes up.
Death
Tone: When a member passes, it is our job to make managing this difficult time as painless as possible.
Messaging:
Report a death: Provide quick access to where loved ones can report a death.
Educate the survivor: The survivor may not be aware of the key details of the plan. Focus on putting their minds at ease by sharing any checklists, FAQs, or handbooks that they can utilize to self-serve.
Contacts: Provide relevant contact information for more in-depth questions.
Be consistent – events will differ, but your content strategy shouldn't.
While the content and the answers will differ greatly between life events, the content structure should not. For each life event, focus on providing the following:
Clear, focused title. Use member-centric language. This will help members find answers faster and likely improve your search engine results, since your content will be more aligned with the actual terms they are searching for.
Concise, approachable introduction. Retirement systems are complex, but the intro should not be. Messaging should be light and concise – in a few lines, visitors should get a clear indication of what they'll find in the article, understand any important deadlines or time-sensitive processes they should be aware of, and be encouraged to read on.
A format that is easy to scan. There is probably a lot to convey to your visitor, but if they find a huge wall of text on the page they are likely to glaze over and call your customer service reps. Save them and yourselves the time! Use headings, bullets, accordions, and hyperlinks to make the page easy to scan, so they can find exactly what they need in the least amount of time.
Provide direct links to whatever they need to manage that specific life event. Pension websites can often become a sea of forms and pdfs. Rather than sending them to the catchall forms page, give members a direct path to anything they may need to download or log into.
If you're looking for a real-life example to learn from, check out what the Sacramento County Employees Retirement System (SCERS) has done with their life events. The content, tone, and delivery are a model to be admired.
Make sure life events are easy to find
The homepage is one of the easiest places to highlight your life event content. By sharing this information up front, you'll ensure that infrequent visitors to your site can easily find guidance for these key milestones. Here are a few tactful ways to incorporate them into your homepage and make them stand out:
1. Use imagery to connect with members and draw them in.
Orange County Employees' Retirement System's (OCERS)'s vibrant, tiled design stands out and prompts visitors to engage. By weaving in authentic imagery, OCERS quickly makes visitors feel at home and provides a welcomed sense of empathy and understanding.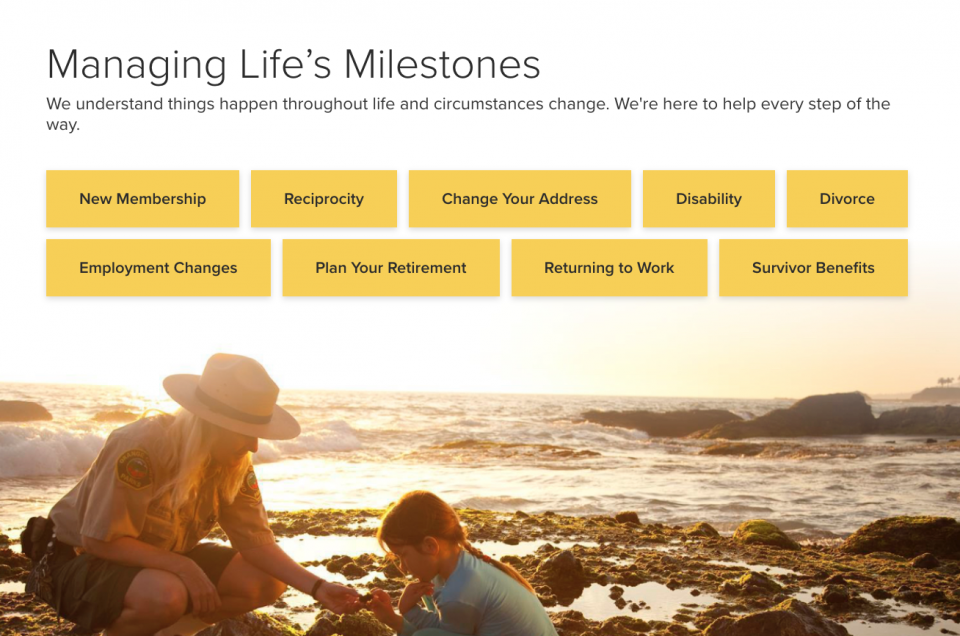 2. Use whitespace to draw the eye to your milestones.
Sacramento County Employee's Retirement System's (SCERS) takes another approach. By tactfully incorporating white space into their life events, they allow negative space to draw to the important links.

3. Group life events with other frequently-requested resources.
By joining life events with commonly requested forms and quick links to the most visited sections of the site, the Employees' Retirement System of Georgia (ERSGA) does a great job of streamlining the user journey and guiding them to key resources.
Final note: Don't forget about your Information architecture! Adding life events to your homepage isn't enough – make sure that your content has an intuitive spot in your navigation so visitors can find it regardless of which page they start from.
Have questions, ideas for articles, or feedback to share?
If you have any questions about this topic or anything else related to your website, feel free to reach out. We're always happy to help!