July 2018 site updates
You asked, we built! It is our sincere pleasure to roll out three significant improvements to your site—based 100% on your requests to our support team.
And we're not nearly done! Do you have ideas on how your site could be easier to use? Let us know by submitting a ticket—we'll review it as a team and see what we can do to make your life better.
New capabilities installed on your site:
Easily enable pop-up notification messages. Post a GDPR-compliant* cookie message, highlight emergency information, or call attention to whatever you want your site visitors to see.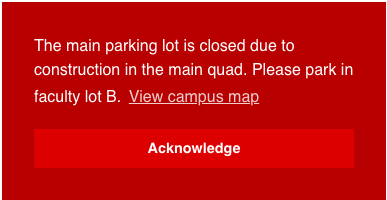 Pop-up notifications can be added by site admins and system admins:
Go to "Commands" > "Manage Content"
Click "Pop-up notifications"
Click "Add Popup"
Add the text you'd like to appear
Check out the many features: choose from a variety of colors (tested for 508/WCAG 2.0 AA disability-compliance), styles, and pop-up positions (top, left, right, bottom), link to any term, post, or external URL, and limit who can see the message
Thanks to feedback from Carol at the Town of Discovery Bay, you now have a draft state for popups that can be activated at a later time.
*If you missed our webinar on GDPR compliance, read on for a chance to catch up.
---
Contributors: Save your posts as drafts without submitting them to an administrator for approval.

Posts saved as a draft will not trigger an approval notification
Drafts will be marked in the revision log and on approval pages so that the administrator can distinguish drafts from revisions pending approval
---
Administrators: Approvals are now faster and easier. The flyout menu will include a notification of the number of pending revisions, a link to see the differences between the current published version and the latest draft, and allow you to approve changes more easily.
You may now approve pending revisions from within the flyout menu
There is now an approval screen that shows a comparison between the current version and the latest version with a new "Publish" button
You may now publish and unpublish easily from within the flyout menu
You may now publish and unpublish a version of a post without necessarily approving the latest revision
Thanks to feedback from Mo at Long Beach City College, we added these features to simplify the approval process.