Western City magazine delights readers and job seekers alike with their newly launched website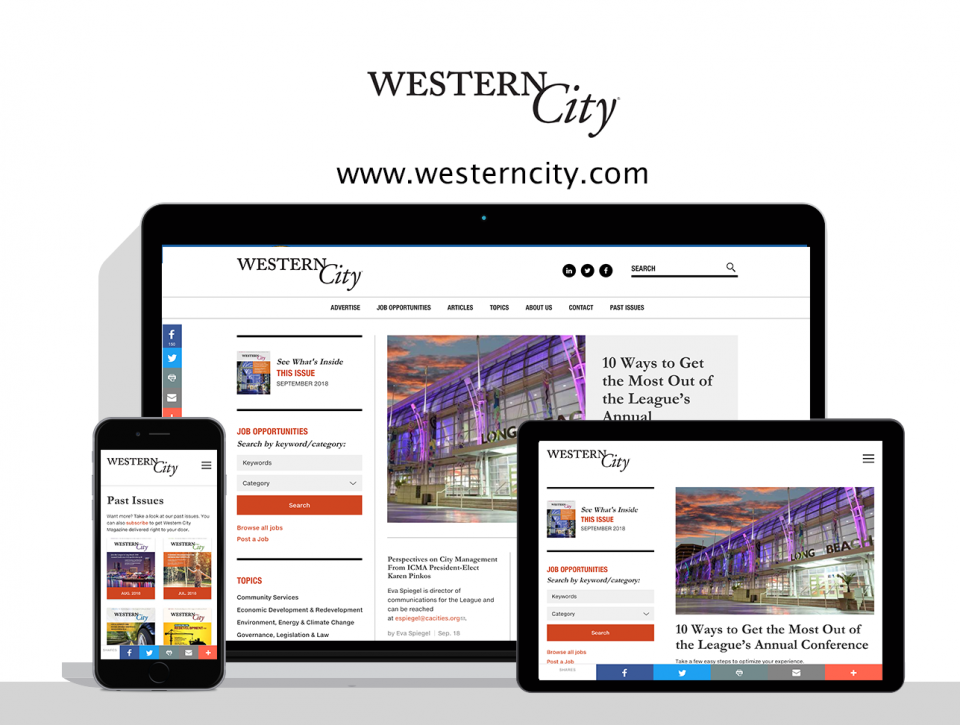 by Lindsay Hardy, Digital Deployment
Western City magazine is an award-winning monthly publication targetted to elected officials, city department heads, policy-makers and opinion leaders throughout the state of California.
Western City's readership looks to its expert reporting for immediately practical ideas and insights on bigger-picture policy issues and trends that visitors simply can't find elsewhere.
Beyond their prized content, Western City also hosts an online job board, widely recognized as the go-to resource for those seeking highly targetted government jobs across California.
The Challenge
Over the years, Western City's old website design had grown stale and their antiquated CMS and job board management tools were presenting limitations to both their staff and readership.
Western City needed an exciting, new website that would empower their team to further engage their readers on every device while unifying the magazine's online and print identities and enhancing their advertising and job promotion capabilities.
The Transformation
By working with Western City's team, we were able to create a modern, elegant design that could satisfy their significant platform needs while providing visitors a seamless, delightful user experience. Here are a few project highlights:
Design that engages readers and inspires exploration – We love all of our designs, but we're especially proud of this one. Inspired by leaders in editorial design, Western City's new website carefully uses dimension, imagery, and font choice to guide the reader to their ideal story.
The serif fonts selected not only bring character to the publication, but also make it easier on the eyes as the reader consumes each story. Most importantly, throughout the site, we carefully guide visitors to related stories and popular content so they can continue learning and discover all that the publication has to offer.
Establishing continuity between print and online – Though online is important, print is a substantial part of Western City's operation. With this in mind, found a number of ways to make the reader feel at home regardless of which medium they're on. "Explore by issue" sections feature the actual print cover to establish familiarity and the website's key accent color was programmed to change each month to reflect what visitors see in the print edition.
Integrating a new custom job board – The job board is key to Western City's business. Accordingly, we carefully researched and selected an industry-leading job board tool that could handle their robust needs and while maintaining a continuity of experience between the two sites. The result is impressive.
Though the actual job board is hosted separately, visitors can search for jobs by keyword or category directly from the Western City magazine homepage. Additionally, they can now find promoted job listings right from the sidebar of the article they are exploring.
Finding a tool that could provide these layers of advanced functionality without sacrificing style was a huge win and we couldn't be more pleased with the result.
Integrating advertising in their new environment – Western City's old ad management platform was a homegrown component of their old CMS system, providing limited reporting and controls. With the new site, we tapped into in the power of Google's Doubleclick for Publishers ad platform. Supporting responsive ad sizes, nearly endless options for creative, and advanced reporting, Western City now has a tool that brings greater value to its advertisers and an opportunity for Western City to increase this revenue stream.
Empowering the publishing team with a robust, easy-to-use content management system – Western City's old content management system was both limiting and labor-intensive, which made it hard to give key articles the visual treatment they deserved. By bringing their new design into our system, we were able to alleviate the most difficult tasks and empower them to easily keep their stories fresh and exciting.
Massive content migration – We often talk about the impact of design and technology, but content is a crucial component of any website's success. Western City had thousands of archived articles on their old side that needed to be brought over and related to one another in a strategic way. Our content team was up to the challenge and made light work of this daunting task, so Western City's team could focus on other key items in their punch list.
We're so proud of what we were able to accomplish together with Western City's team and are excited to watch how the new design will affect their business. Check it out and let us know what you think!
Let's work together
If you have a project with similar needs, let us know. We'd love to learn more about it and walk you through a free demo or consultation.