SEIU 1021 thinks big and acts bold with their newly launched website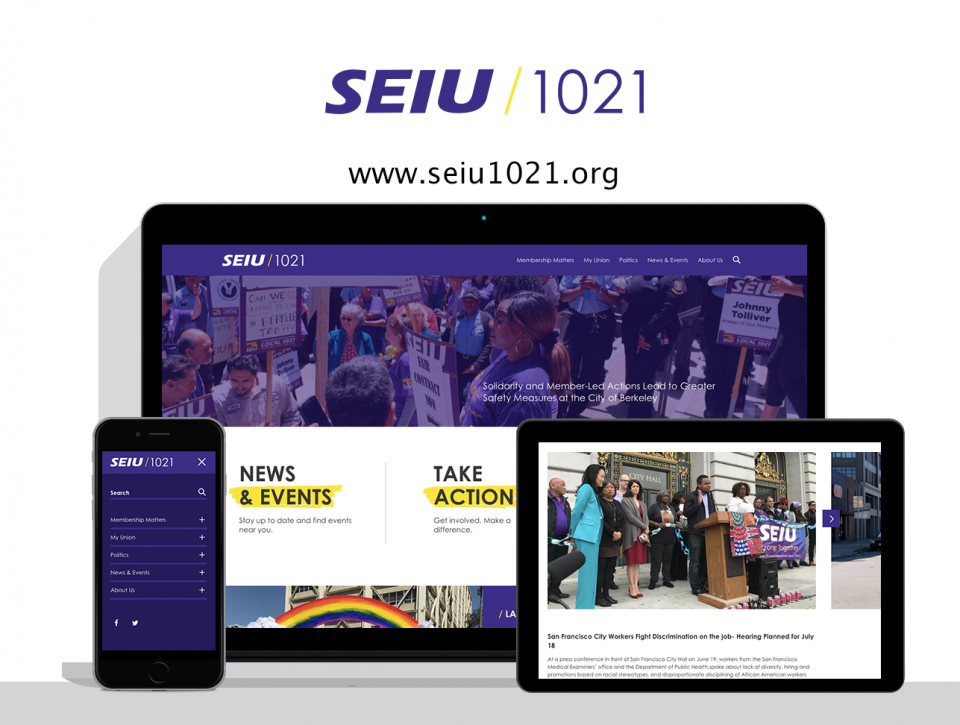 SEIU 1021 is a diverse, effective, member-driven union that represents nearly 60,000 workers and their families in healthcare, local government, schools and universities, nonprofits, and special districts throughout Northern California.
SEIU 1021's leadership, vision, community, and record of winning contract and political campaigns empower their organization to achieve respect, fairness, equity and justice for the working people it represents.
The Challenge
In addition to needing a better online tool that was easier to manage and would help them serve their members, SEIU 1021 was also up against a new challenge this year. During the discovery phase, we learned that there was a new supreme court decision on the horizon with the potential to drastically affect all public sector unions and their ability to support themselves financially. This made launching an effective website all the more critical for this organization.
The Transformation
Impactful Design – As soon as you land on the page, you feel the activity and impact of the union. The bold hero banner showcases their powerful, member-focused imagery and immediately begins telling their story. The quick links with hand-drawn, animated highlights quickly draw visitors to the most essential areas of their site. Farther down the page, the table is set for storytelling, complete with stats to demonstrate SEIU 1021's accomplishments, spotlight sections, and more. We're proud of all the designs that we create, but this one truly stands out.
Intuitive Information Architecture – Getting members to the right spot on the site quickly and easily is crucial. For SEIU 1021 we spent a lot of time not only organizing their content and navigation into intuitive buckets but also listening to the language that their team actually uses with their membership and bringing it into the navigation. Terms like "My Union" and "Take Action" resonate with members and immediately clue members to where they need to go. We're excited to see how the updated IA makes member lives easier.
Streamlined Member Resources – Within the "My Union" section, our content team worked hard to create a content model for chapters to include their contracts, policies, updates, and forms in a uniform and intuitive way.
Outstanding Mobile Experience – During discovery, we learned that their leadership had been considering developing an app in addition to the new site. However, we quickly assured them that we could alleviate this need with a mobile-first responsive design for their new website. The result speaks for itself. Members can now easily find what they need from any mobile device. Staff are able to easily maintain an updated, unified content experience. Best of all, the union was able to save the time and resources they would have spent building an app and put that toward other member needs.
We're so proud of what we were able to accomplish together with SEIU 1021 and believe their new website will have a profound impact on our families, our workplaces, and our state.
Let's work together
If you have a project with similar needs, let us know. We'd love to learn more about it and walk you through a free demo or consultation.