Sacramento SPCA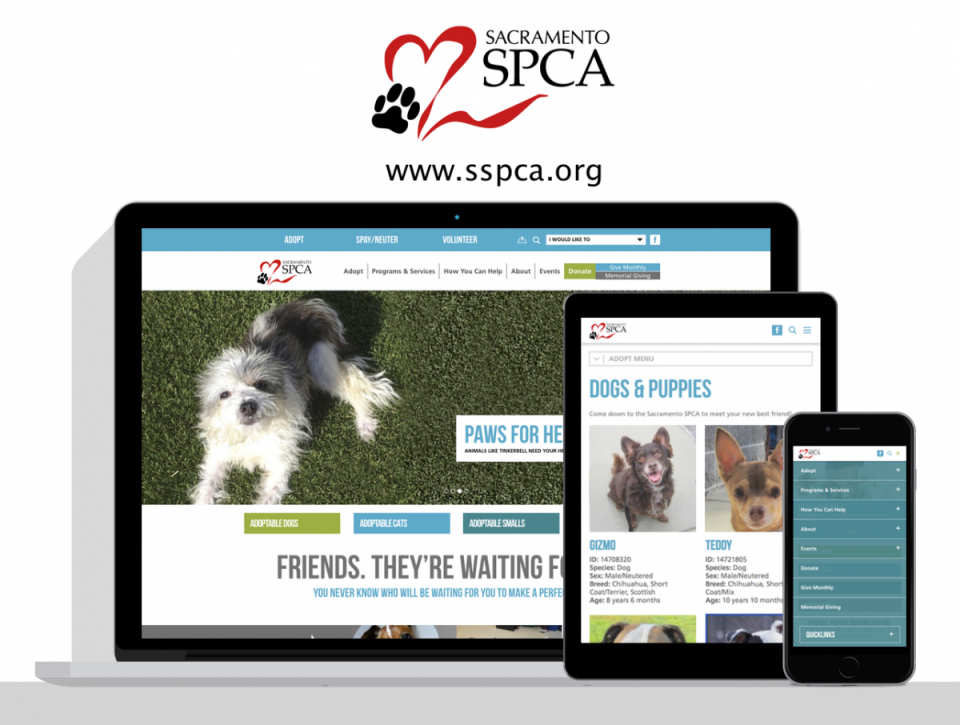 The Sacramento SPCA is an open admission animal shelter, which means they accept animals that are surrendered to us regardless of health, age, breed or behavior. Open admission shelters play an essential role in providing care to the thousands of animals that would otherwise have no safe refuge. As such, the Sacramento SPCA was looking for local Sacramento website designer that could take their online efforts to the next level in supporting their important mission.
Site Launch
In August 2016 we launched the new Sacramento SPCA website, and we seriously can't stop looking at it. The local SPCA does amazing work for both our furry friends and our community, and with this new website they are truly able to shine a light on it.
What we love
Amazing imagery – Their photo curation is outstanding. From the adorable bunny in a bowtie showcasing the "Black & White Fur Ball" to the pup holding his leash waiting for you to take him to his first training class, they really have a talent for drawing you in to learn more.
Focusing on what counts – The Sacramento SPCA is all about helping their animals find a home or offering you a way to get involved. Their site really reflects this well. Options to adopt, donate, and volunteer are front and center.
Getting Social - With 67k followers and a talented social media team, SSPCA has done a tremendous job of engaging their social community for years. With their recent refresh, they now have their social feed right on the homepage so you can take part in their live shelter tours or just enjoy in their witty banter and cute pet pics directly from their site.
Demonstrating how they're making an impact - Aside from all the cute content, we really like how the SSPCA has chosen to share their success with the community in their 122 years of service. When you look at their homepage, you can check out the numbers at a glance and know they are an organization you can feel good about supporting.