Our Promise: Helping California State Employees Make a Difference
New website streamlines user experience for one of California's largest philanthropic giving campaigns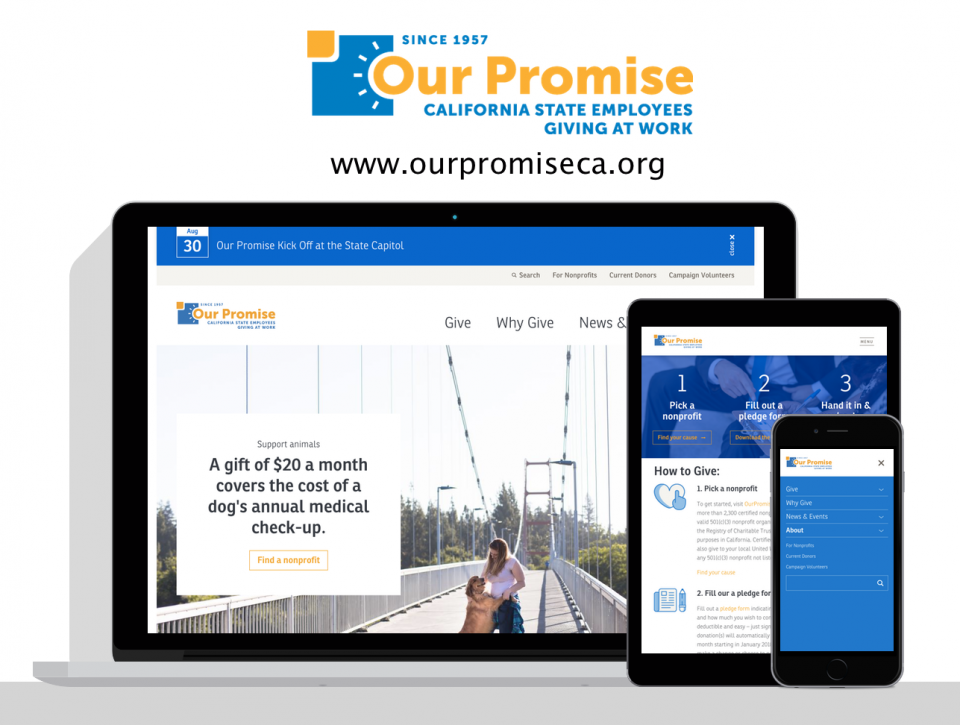 Nearing its 60th year, Our Promise: California State Employees Giving at Work is one of the largest philanthropic giving campaigns in the state of California. Designed to help California's state employees demonstrate their commitment and dedication to their communities, Our Promise brings people together to tackle big problems right here at home.
For state employees who choose to make a gift, the campaign offers convenience, peace-of-mind, and a chance to be part of something bigger than themselves. All participating nonprofits have been carefully vetted and the collective impact of the gift makes a statement that California state employees care.
We've been working with Our Promise CA for a long time, and were so happy when they approached us about a new responsive website for this cause.
A few things we love about this site.
Sharing the emotion and the impact of the organization – From the bold hero area, to the non-profit carousel and the stats bar below, we love the way that the new website carefully uses design, imagery, and messaging to inspire donors, help important causes, and truly demonstrate the impact of the organization. Every time we visit the site, we are inspired to help create change for California's causes and communities.
Making it easy for donors to give to their favorite nonprofit – We worked closely with Our Promise CA's team to simplify the process of selecting a non-profit to give to. The new non-profit search tool works like a dream on any device and helps connect donors and nonprofits with ease.
Making life easier for nonprofits and campaign volunteers – Campaigns like Our Promise CA rely heavily on the support of their campaign volunteers in order to succeed. After identifying this early in the discovery process, we made it a priority to develop campaign resource centers that would ease the burden of both volunteers and the staff that support them.
We're so thankful for the opportunity to work with amazing organizations like Our Promise CA and on projects that affect so many lives. We look forward to seeing how their new site will affect the campaign for years to come.
If you've been considering a redesign with similar goals, let us know. We'd love to discuss how your website can make a difference.