Old Sacramento Waterfront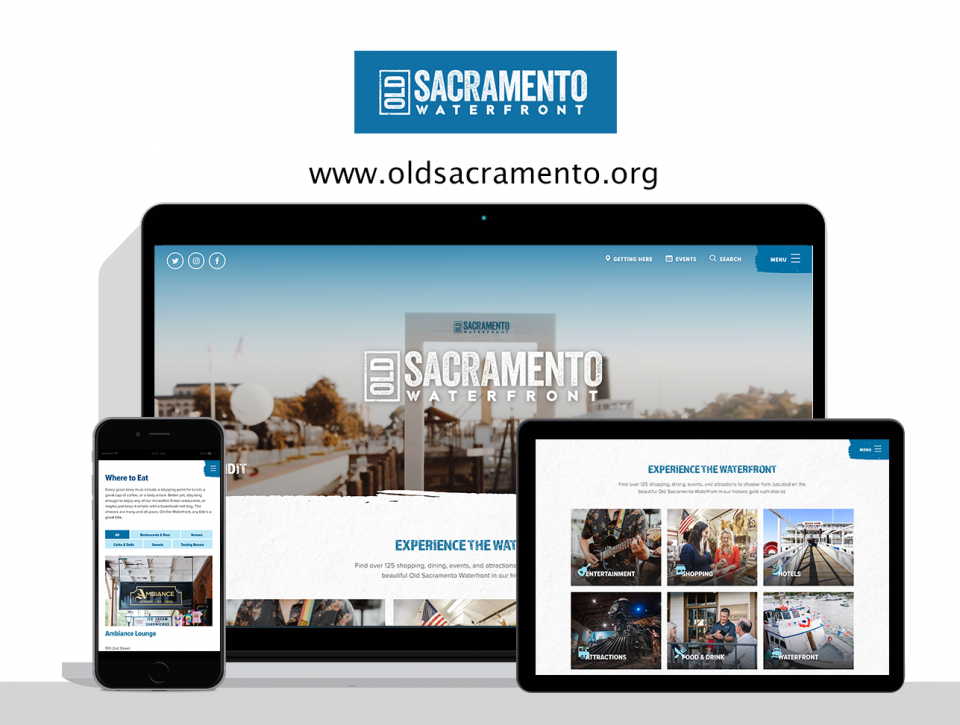 Located in the heart of Sacramento's historic district, the Old Sacramento Waterfront (The Waterfront) is the perfect spot to grab a bite, plan a shopping trip, experience gold rush history, or simply enjoy a waterfront cocktail with friends.
Already a staple for tourists, The Waterfront came to Digital Deployment looking for an impactful, new website that could re-introduce The Waterfront to local residents and invite them to explore the expanding shopping, dining, and growing event opportunities there.
Infusing a new Brand and Identity
We worked carefully with The Waterfront bring their new brand and visual identity to life throughout the site. As you move throughout the website, you'll notice the bold fonts, the modern touches, and organic textures that nod to their new mark. The result is a youthful, exciting and authentic new look that appeals to the new goals of the district while still paying tribute to its past.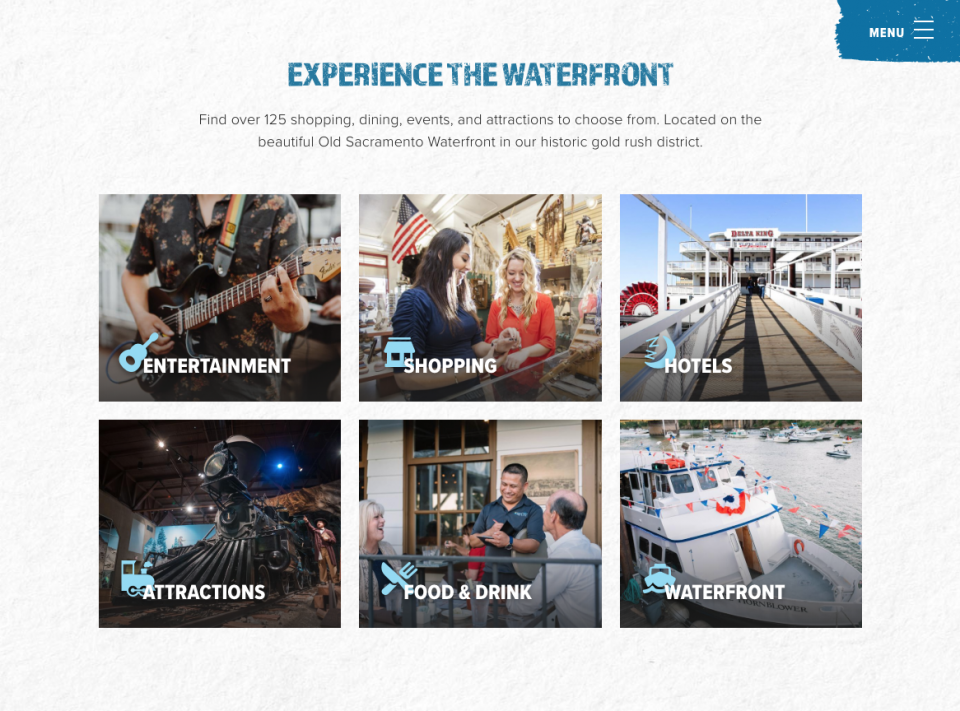 Bringing shops, eateries, events and attractions front and center
The waterfront is a destination in the midst of transformation. The growing list of shops, venues, eateries, and events along with its proximity to the water make it a natural destination for visitors of all ages. To help visitors discover their ideal venues, we utilized authentic imagery, custom iconography, and immersive animations to develop a user experience that effortlessly guides visitors to key destinations based on their area of interest.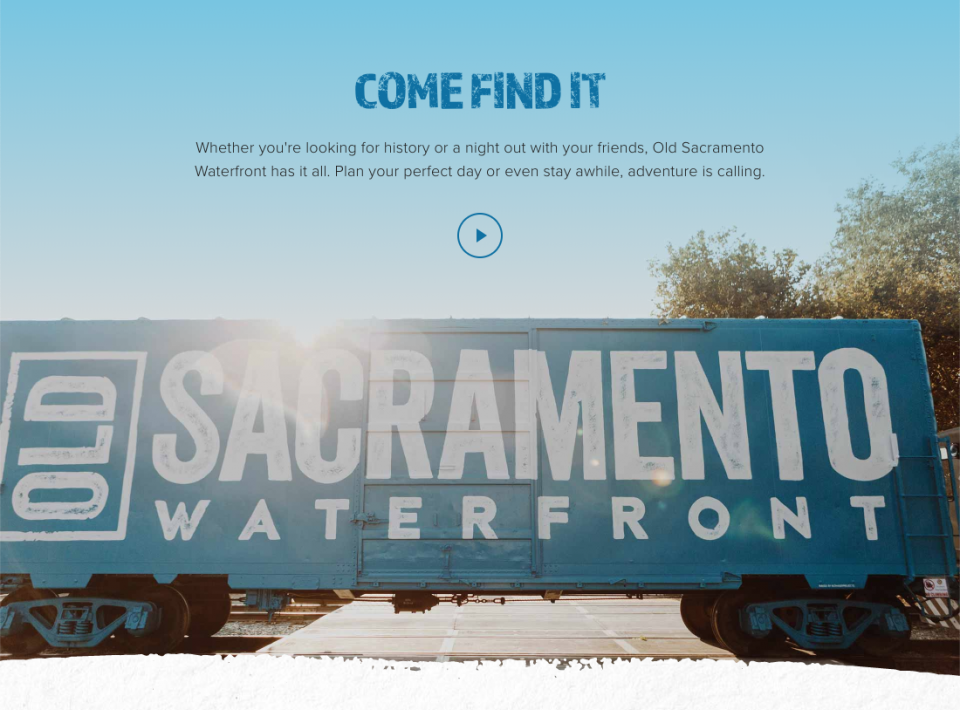 Creating a space to show off
By creating special spotlight sections to share news, events, videos, special offers, and even customized itineraries, we've empowered the Old Sacramento Waterfront team to share the new life and excitement of the district with the community in an engaging way.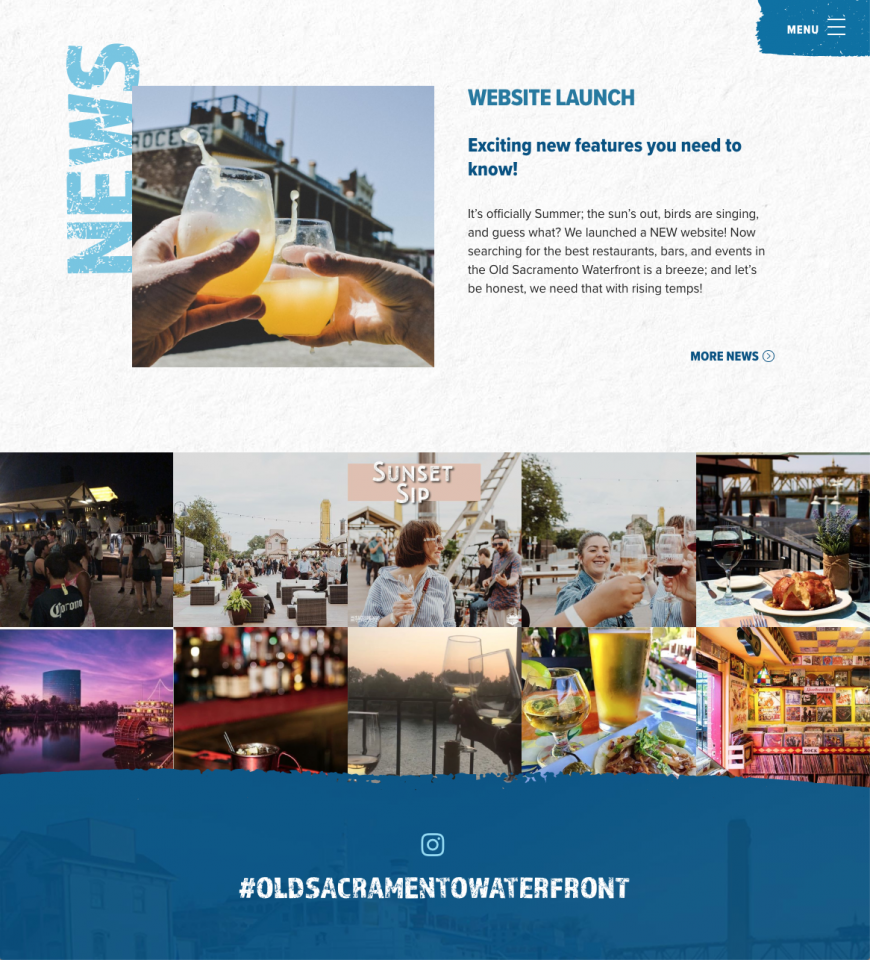 Integrating and empowering social media
Promoting their brand, events, and offerings on social media is a major focus of The Waterfront. Accordingly, we infused social media throughout the design. Our custom Instagram integration helps the team quickly and easily tell their story in a visual way while requiring minimal upkeep from The Waterfront Staff. Within the site, branded hashtags and social sharing tools help to increase the visibility of key content.
Crafting a mobile-first experience
With so many of The Waterfront's visitors experiencing their website on a mobile device, we knew it was crucial to ensure that visitors could find what they need to plan their visit on the fly. The result is a delightful experience that guides visitors to the perfect place to eat, drink, shop, park, or stay with a single tap of a fingertip.
Let's work together
We're so proud of what we were able to accomplish together with The Waterfont and believe their new website will have a profound impact on our city.
If you have a project with similar needs, let us know. We'd love to learn more about it and walk you through a free demo or consultation.