Maryland State Retirement and Pension System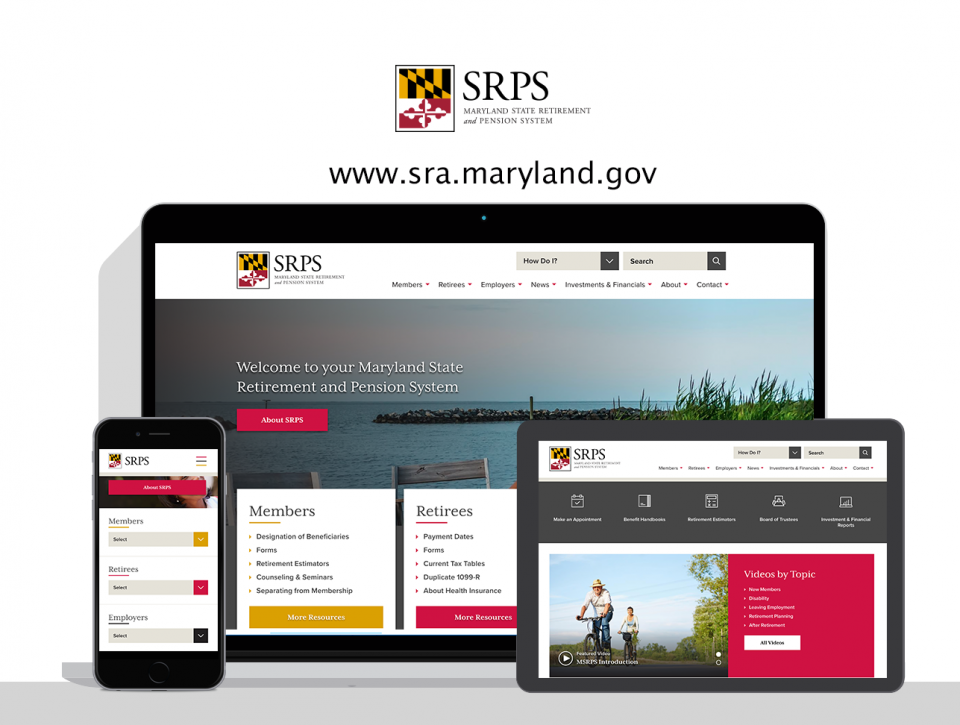 The Maryland State Retirement and Pension System (SRPS) supports Maryland's public servants by administering the survivor, disability, and retirement benefits for 400,000+ members which include active and former State employees, teachers, State police, judges, law enforcement officers, correctional officers and legislators across the state.
SRPS came to Digital Deployment seeking a new pension website that would optimize the user experience, allowing its members to easily plan and navigate their retirement options while effortlessly keeping up-to-date with the latest news and updates from the fund.
Not only is their new website stunning, but the results speak for themselves. Since the site launch we've already seen the following trends:
Overall visits to the website have grown by 28%
Organic search traffic has grown by 37%
Mobile visitors are spending 19% more time on the site.
Look below to learn about a few of the more impactful elements of this project.
Data-driven design to solve real end-user needs
A groundbreaking design informed by data and real customer feedback is now helping the Maryland State Retirement and Pension System to proactively answer top member questions and empower members to self-serve through a modern & user-centric design, streamlined information architecture, audience-specific landing pages, access to curated support videos, guidance on how to manage key life events, and more.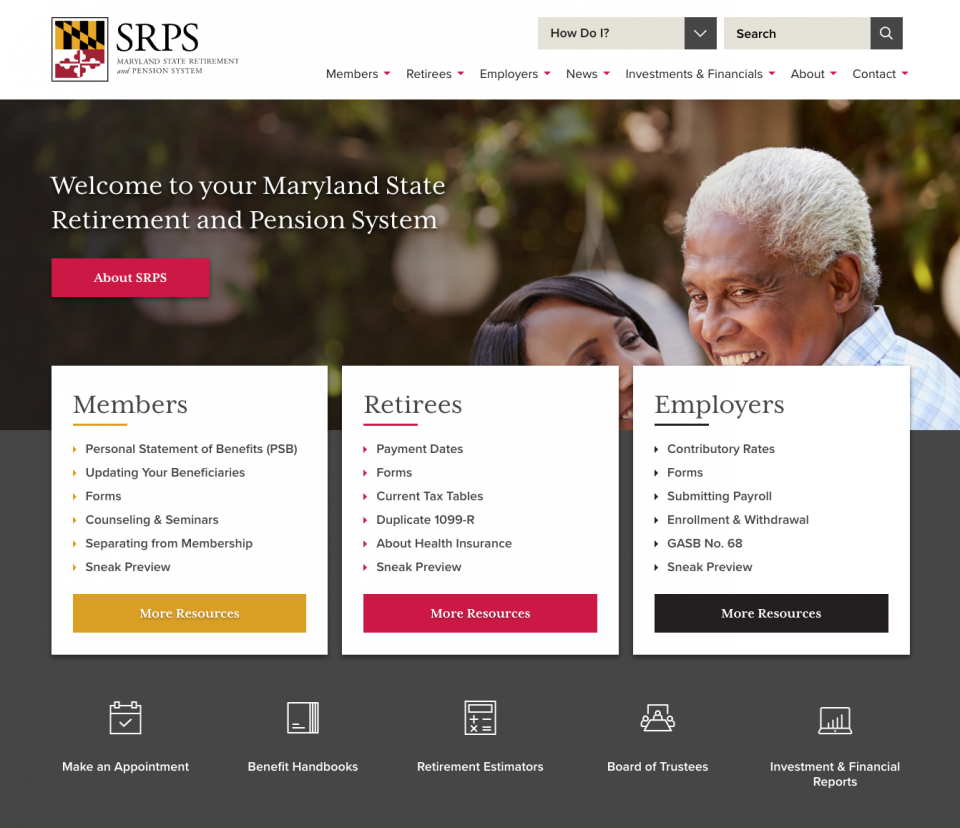 Optimized for organic search
The new information architecture, content strategy, and technology are making it easier for visitors to find the site on Google or their favorite search engine. Since launch, the site has already seen a 37% increase in visits via organic search. Better yet, those that arrive via search are the most highly engaged, spending nearly 28% more time on the site than they used to, and bouncing 36% less often.
Note: SEO (Search Engine Optimization) is something we value highly and speak about regularly. If you have questions about how to optimize your site, contact us. Or, enjoy one of our recent SEO webinars.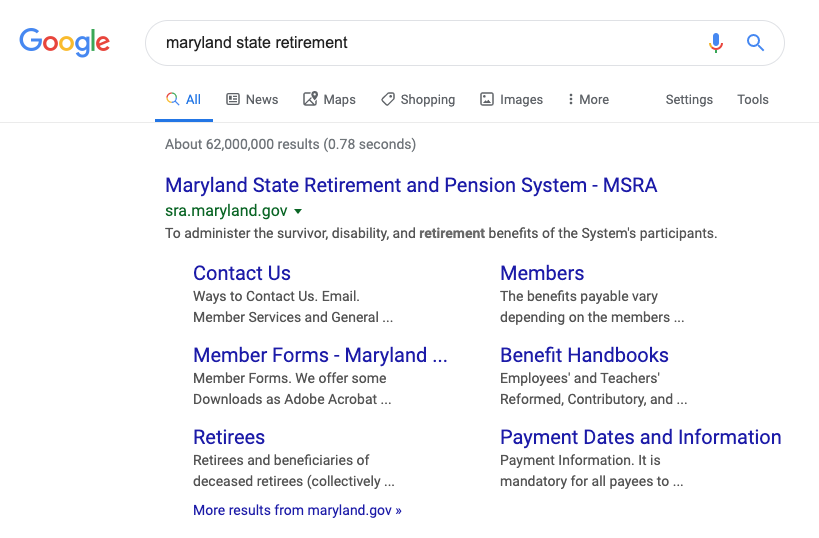 Seamless integration of multiple retirement estimators
We worked with Maryland's team to ensure all 12 retirement estimators were seamlessly integrated within the site so members are empowered to plan for their future without leaving the site or picking up the phone.
Note: If you have questions about your own technology integrations, contact us for a free strategic consultation. We'd be happy to review your systems or even provide some recommendations of our own, based on our work with other leading retirement systems.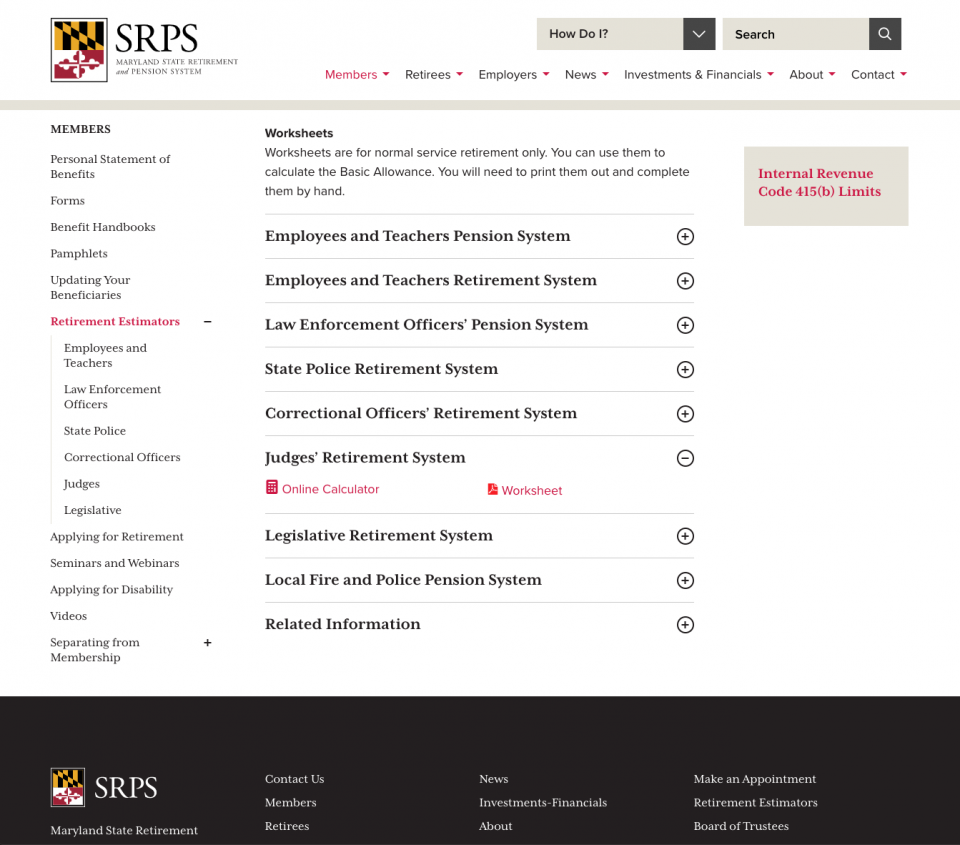 Mobile-first, responsive design
From reviewing a handbook to calculating retirement estimates or even just catching up on a planning seminar, Maryland's new website makes managing retirement a breeze on any device.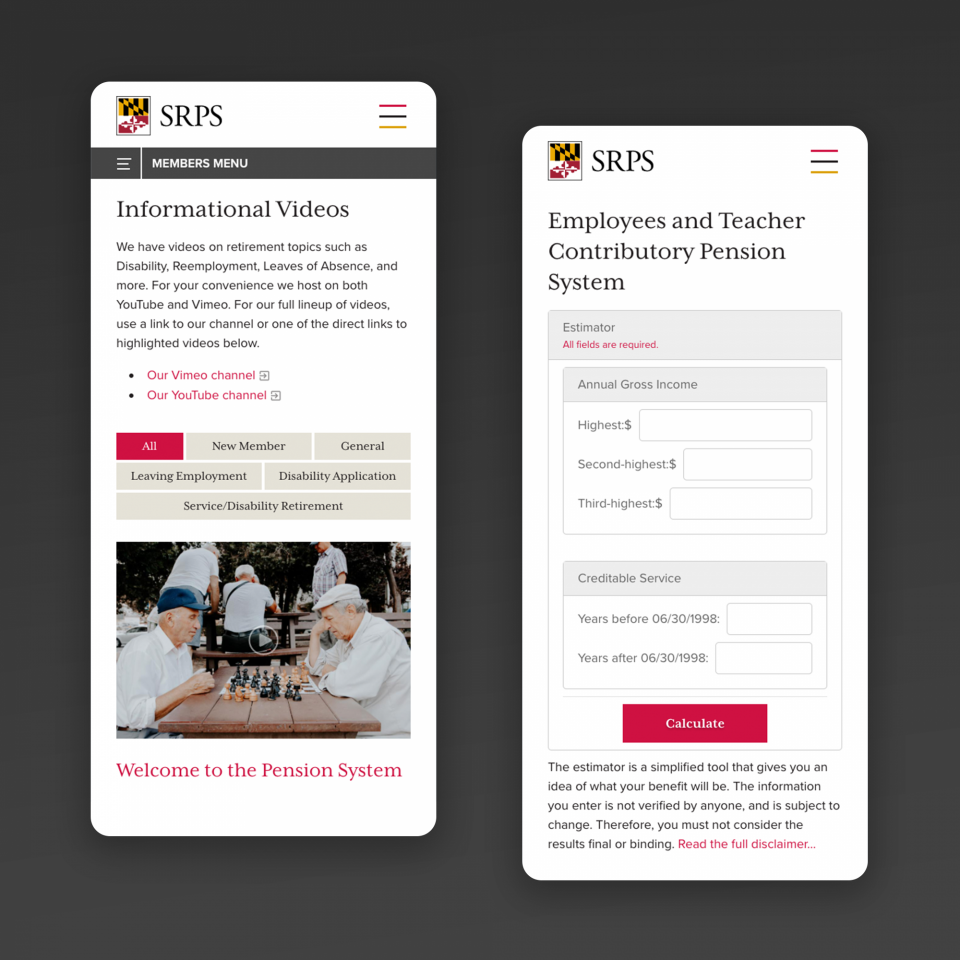 Section 508 and WCAG 2.1 compliant
From design to technical implementation, we worked closely with Maryland to ensure users with disabilities can navigate the site with ease.
Note: If you're interested in learning how to ensure your website is accessible and compliant within the current guidelines, contact us with your questions. Or, watch one of our recent website accessibility webinars.
Flexible content, easy to edit all aspects of the site
Our system brings together the power of drupal, the #1 enterprise content management system and adds an enhanced usability layer for your site editors. Maryland's team is now empowered to communicate with ease.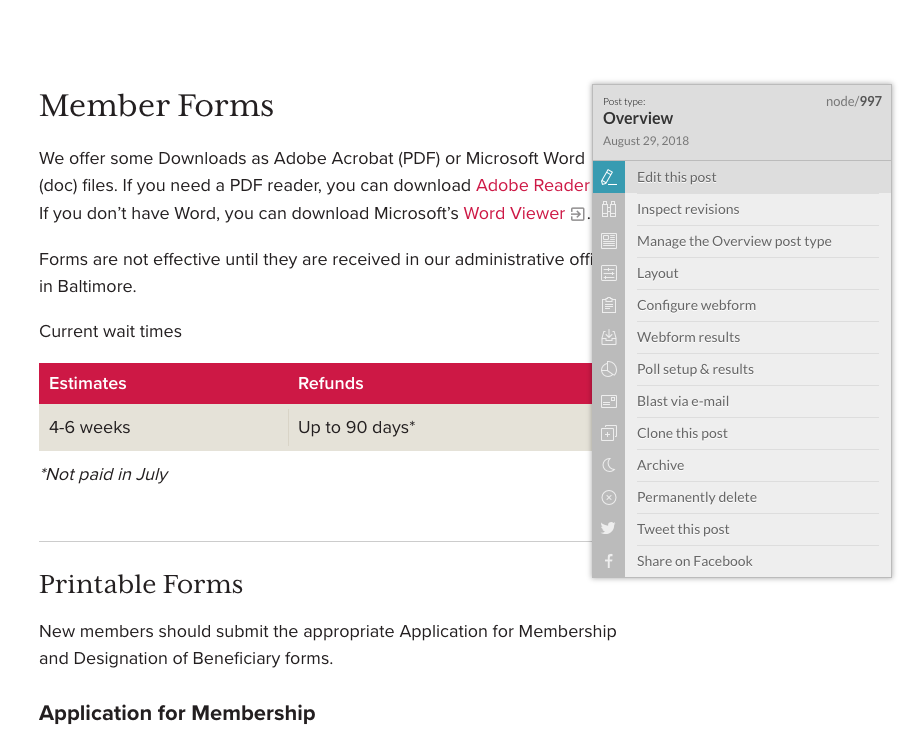 Let's work together
We're so proud of what we were able to accomplish together with Maryland's team. If you have a project with similar needs, let us know. We'd love to learn more about it and walk you through a free demo or consultation.