Enhancing the student experience
Long Beach City College (LBCC) launches their new website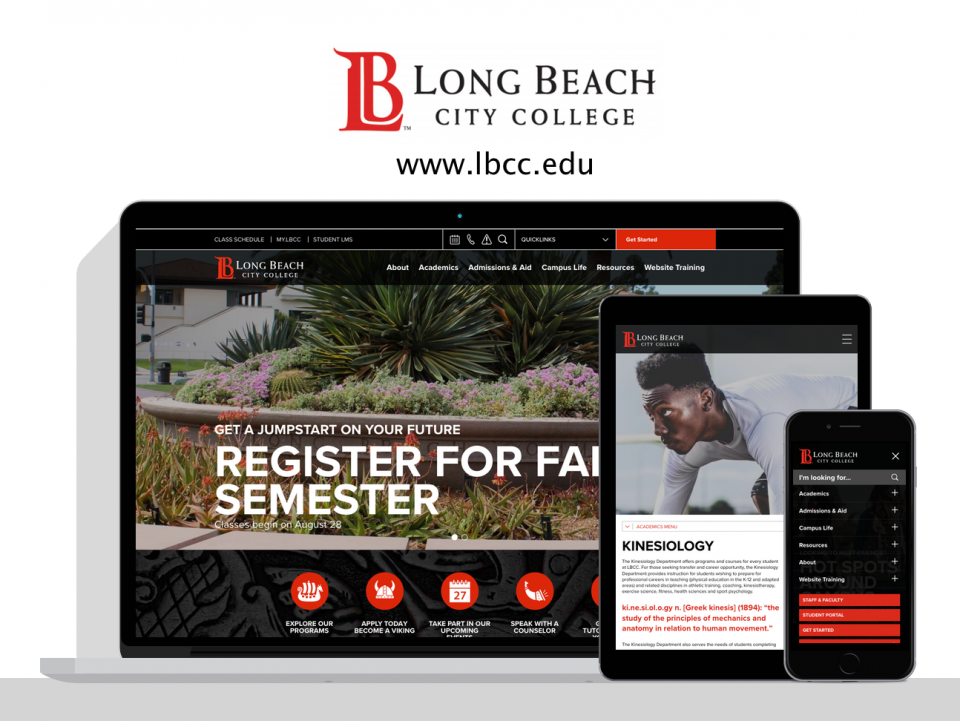 Since 1927, Long Beach City College (LBCC) has been at the heart of the community providing educational programs with a commitment to excellence in student learning in a culturally diverse and vibrant environment.
This year, we had the incredible opportunity to work with the Long Beach City College on a complete redesign of their school website. This was an enormous task that involved understanding the needs of the entire community including current and prospective students, faculty, deans, department heads, and staff… as well as bringing over 200 separate department sites into one cohesive website.
To do this, we conducted focus groups with key audiences, reached out to the community through stakeholder surveys, and mined analytics for the insights and hidden gems that would make life easier for students and staff alike.
Here are a few things that really stood out about this project:
Fun, inviting, engaging – Through focus groups and stakeholder surveys we learned that students needed a place where they could arrive, feel the community of the school and get involved. By utilizing stunning typography, engaging imagery, custom Viking icons, and delightful animations, LBCC is taking the stuffiness out of their news feed and replacing it with life and excitement.
Proactive and helpful – Through our research, we heard countless stories of how helpful the staff was in answering key questions for the students when they couldn't get answers on their site. By creating custom "how can we help" and "getting started" sections on the homepage and throughout the site, LBCC is now proactively bringing the answers to the students and reducing the volume of questions they address in-person.
Easy to research programs and plan for the future – For a new student, finding the right area of study can be a daunting task. To remedy this, we created a custom tool that allows students to find an academic program by interest. Furthermore, we standardized the structure of academic program pages so students can quickly understand what they'll learn, the potential outcomes available to them, and who to contact with questions.
There is so much more we'd love to share about this project, but you really have to see it for yourself!
Let's work together
If you have a project with similar needs, let us know. We'd love to learn more about it and walk you through a free demo or consultation.