City of Grass Valley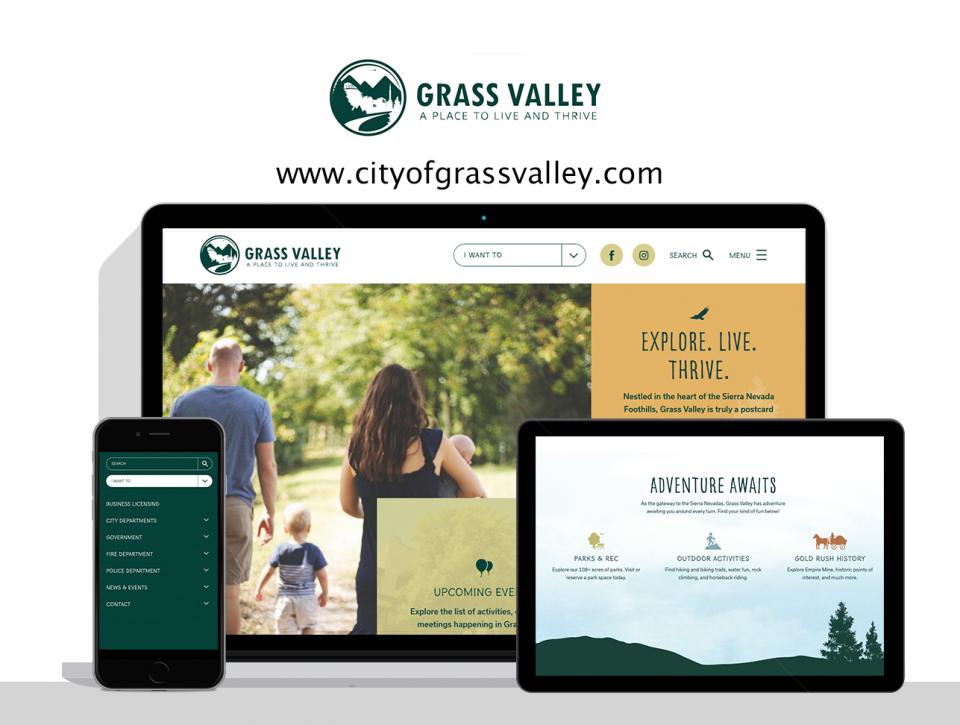 The City of Grass Valley is a special place to live. For years, the Gold Rush history, charming downtown, and access to the outdoors have drawn residents and visitors alike. However, in recent years, an influx of new tech companies, commercial projects, and exciting developments have created the perfect environment for young professionals and their families to join the community and lay down roots.
The City of Grass Valley came to Digital Deployment seeking a new website that would enhance the lives of residents, streamline local business operations, and encourage the next generation to discover the charm and opportunity of the city.
Not only is their new website stunning, but the results speak for themselves. Since the site launch we've already seen the following trends:
Visits to the website have increased by 95%
Pageviews have increased by 93%
Organic search traffic has increased by 30%
Mobile visitors have increased by 61%
Read on to learn about a few of the more impactful elements of this project.
Bringing the city's identity to life
Creating a website that would bring Grass Valley's new identity to life was critical for this project. Specifically, visitors needed to see the growing array of opportunities and activities that are available to young professionals and their families.
We accomplished this by creating a modern layout that breaks the traditional design grid that every other city is using. Throughout the new design, we've brought in full-bleed, authentic imagery that represents the breadth of the Grass Valley experience. Playful, hand-drawn fonts and custom iconography cue visitors to the city's rustic, yet tech-savvy personality throughout the site and help them effortlessly reach their top destinations throughout the site.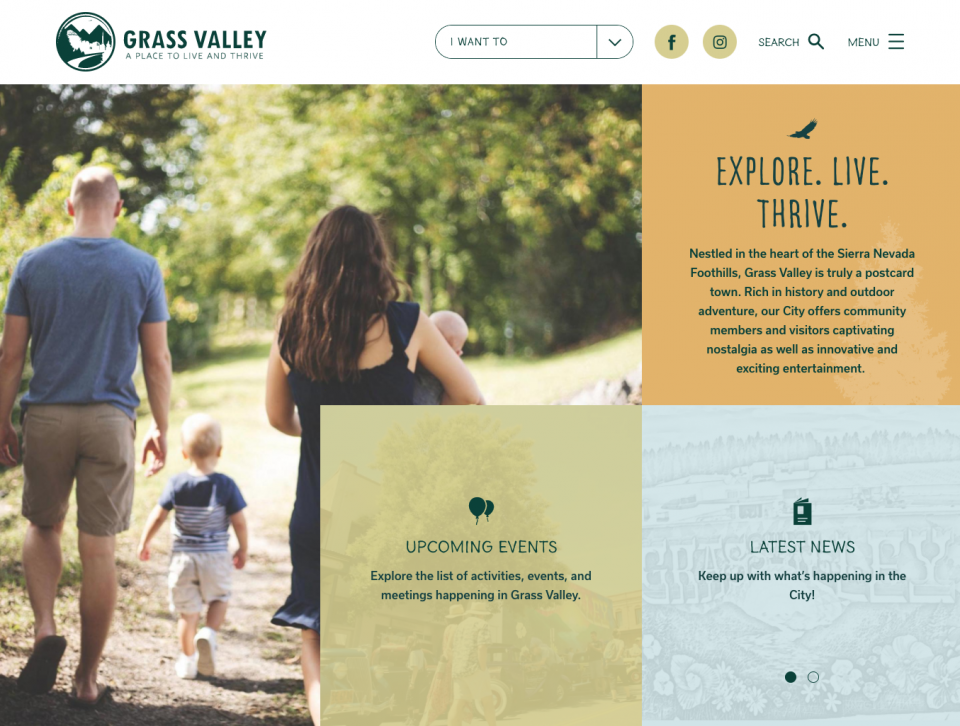 Trumba Community Calendar Integration
Grass Valley is powered by a small but mighty communications team. To help them optimize operations, we utilized a custom Trumba calendar integration for their website. This tool allows them to easily access and share all of the region's local events on their website without having to dedicate a staff person to take on the monstrous job of event management.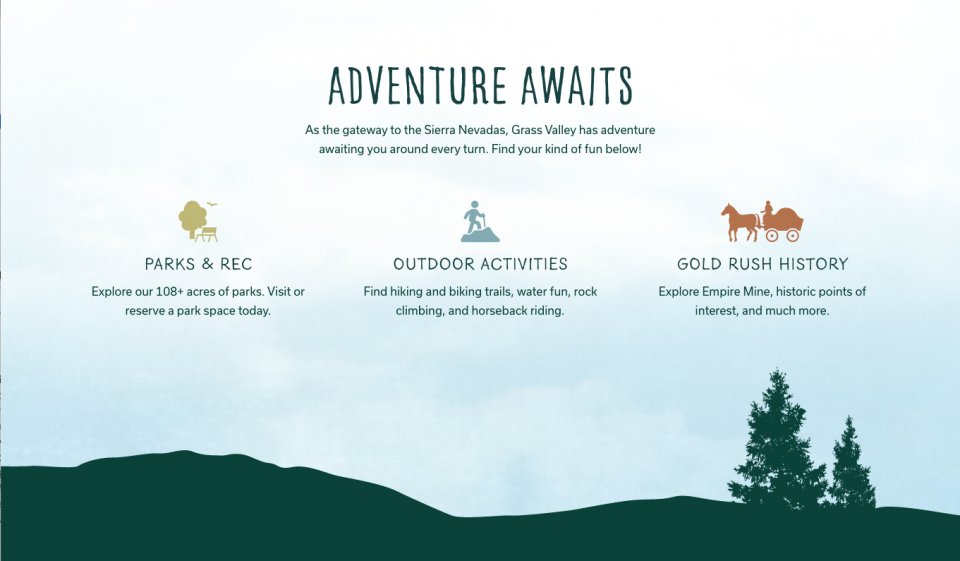 Streamlining emergency services using microsites
Our platform's microsite technology empowered us to unify the city and its emergency services websites. The result is a consistent and intuitive user experience for the citizens who rely on the city, police, and fire websites. Beyond this, content management is now a breeze for any cross-functional teams that may need to edit more than one of the websites with critical information.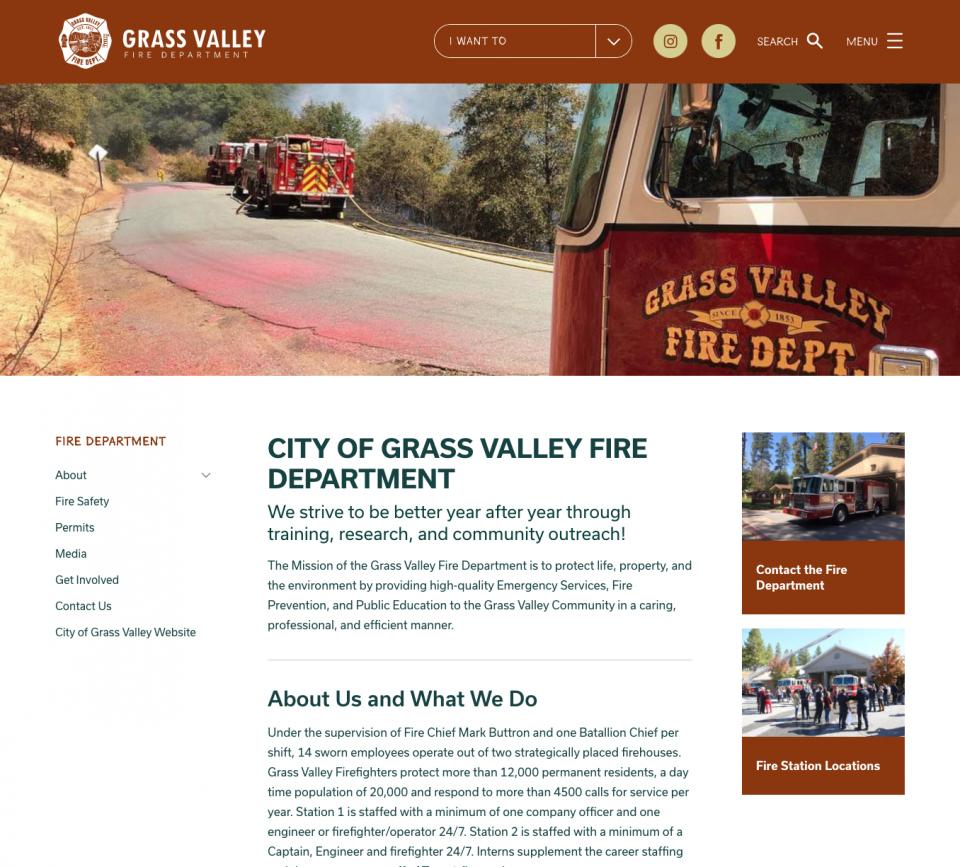 Crafting a mobile-first experience
The new city website was designed mobile-first to ensure that all visitors can find what they need effortlessly, on any device. Accordingly, as visitors move to smaller breakpoints, the design responsively adjusts to create a customized experience for those viewing on mobile and tablet devices. The result is a delightful experience that guides visitors to take care of business, find upcoming events, embark on an adventure, learn about new developments, and more.
Let's work together
We're so proud of what we were able to accomplish along with the City of Grass Valley, and we believe their new website will have a profound impact for their citizens and the way they do business.
If you have a project with similar needs, let us know. We'd love to learn more about it and walk you through a free demo or consultation.