Changing lives & preventing victims
Chief Probation Officers in California (CPOC) strengthens California communities with its new website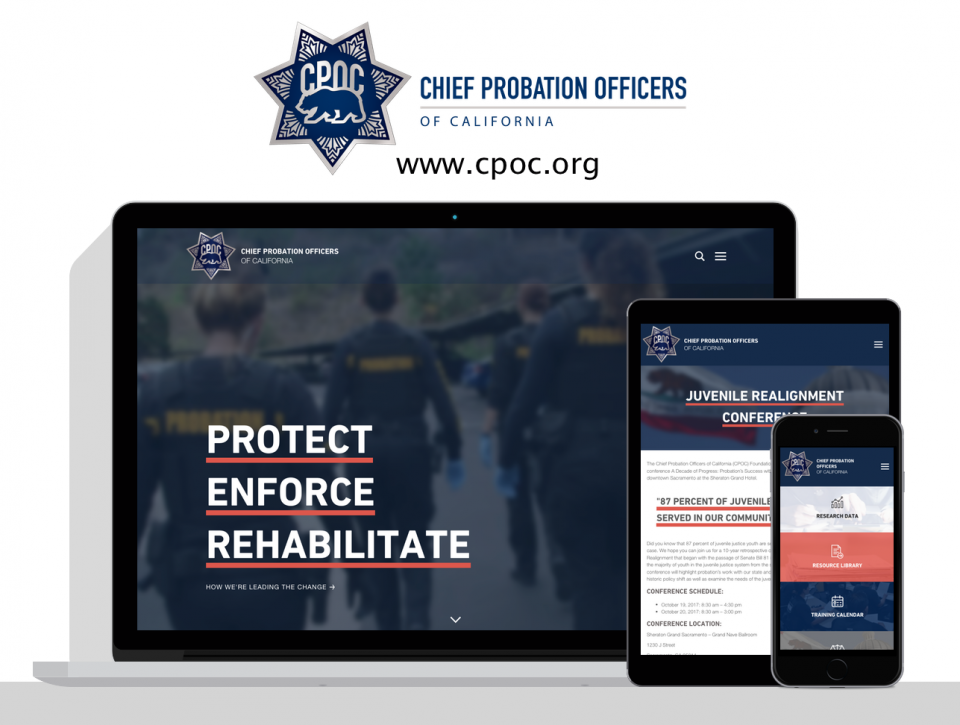 We are fortunate to have the opportunity to work with so many amazing organizations and associations across the country. This summer, we had the opportunity to work with Chief Probation Officers in California (CPOC) on a complete rebrand and redesign for their organization's website. Up against a tight timeline, CPOC was in need of a content management system that could empower their team, a brand that could solidify their identity, and a platform that could further their cause–all in time for their annual conference.
Fortunately collaborating with their team was seamless and we were able to make quick work of a big project. An intelligent, passionate and diverse group, the CPOC team enlightened our team with countless insights that deeply influenced the design, information architecture, and content strategy for their site. Here are a few of the things that really stood out about this project:
Establishing an identity – Often design agencies are forced to work around funky logos or questionable taglines. CPOC however, was ready for a change. After some powerful discussions about symbols, imagery and purpose we were able to create their new mark and supporting language. As a result, their brand is instantly recognizable and their mission is easily understood. (Amazing work as usual, Maria!)
Demonstrating impact – Though associations are dedicated to their members' needs, they also have the responsibility of garnering support and gaining influence by showcasing their impact. By sharing spotlight stories and key stats, their work and their impact are now front and center.
Guiding visitors to key resources – Key placement of custom icons allow people to find their valuable data, resources and even available jobs.
Making it easy to find any CA county probation department – Through discovery, we learned that visitors were often finding their website through "Google search" when they really needed to reach a local resource. This caused a lot of questions that we could easily relieve with a cool drop-down tool dedicated to locating county probation offices (a big thanks to our front-end developers, Dave and Jason for this little piece of UI wizardry). The result is a delightful, helpful experience on any device.
I could go on and on about this design because I truly love it, and their organization. If you have a moment, check it out. If you've got similar issues to solve, let us know. We're always excited to help!