California Student Aid Commission (CSAC) launches new website
Helping California families achieve their dreams of higher education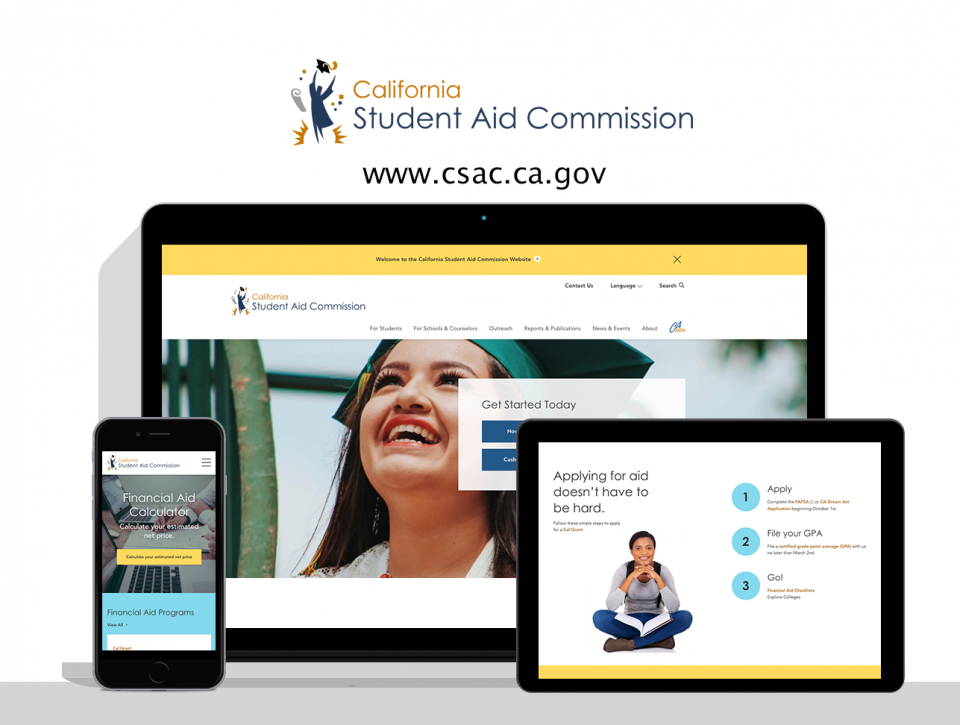 The California Student Aid Commission (CSAC) is an inspired organization dedicated to changing lives by making higher education financially accessible to all Californians.
Established in 1955, CSAC accomplishes this by providing access to financial aid programs, guidance, and support services to a diverse range of students, families, schools, counselors, and financial aid administrators across the state.
Reaching 1.2 million site visitors annually, CSAC's website is an essential tool for communicating and guiding families through the vast programs and opportunities they offer. Understanding the importance of this project, CSAC sought out Digital Deployment for our expertise in building effective government websites that not only meet the stringent standards for the state, but more importantly, transform the user experience for those that rely upon them.
When we met to discuss the possibilities of the future of their website, we quickly learned how legacy technology and a tangled information architecture was causing critical information to be buried behind too many clicks. As a result, key pages had strayed from their original focus and weren't reaching their audiences in the ways they truly needed to. We understood their struggles and were thrilled about the opportunity to re-think both the technology and the user experience.
We drew from each step of our five-phase process, working closely with CSAC's team to distill audience needs, create an accessible, uniform strategy for key content, and develop a design that would empower and inspire their audience to take hold of their future.
A few of the things we love about this site
Simplifying the application process – while researching the CSAC website, we were quickly reminded of that moment when we were high school students looking for answers. With that in mind, we tapped CSAC's resources to find out how we could make applying on for financial aid feel as simple as 1-2-3.
Helping visitors discover programs – there are so many programs available to students, so we worked hard to ensure they can find the right program simply by scanning the homepage.
Making it simple to calculate financial aid - financial aid is all about the bottom line, so we worked strategically to point visitors to the calculator tool throughout the site.
Highlighting success stories and encouraging students to share their own – in order to get more students to apply, we needed them to feel like aid was attainable. By creating a place to share success stories from students like themselves, we are now able to break down barriers and empower the next generation to further their education.
Making it easy to take action and get answers on any device – access to technology varies greatly from household to household in California. With this in mind, we knew a responsive design was essential to the success of CSAC's mission. Their new site is now responsive, accessible, and delightful on any device.
By creating a website that aligns with CSAC's commitment to customer service and empowerment, we are confident that we'll expand the reach of its programs and enhance access for the students who take advantage of them. We're really looking forward to seeing how this impacts families across the state, and are extremely proud of the work we've accomplished with the CSAC team. We encourage you to check it out!
Let's work together
If you have a project with similar needs, let us know. We'd love to learn more about it and walk you through a free demo or consultation.