California Restaurant Association Design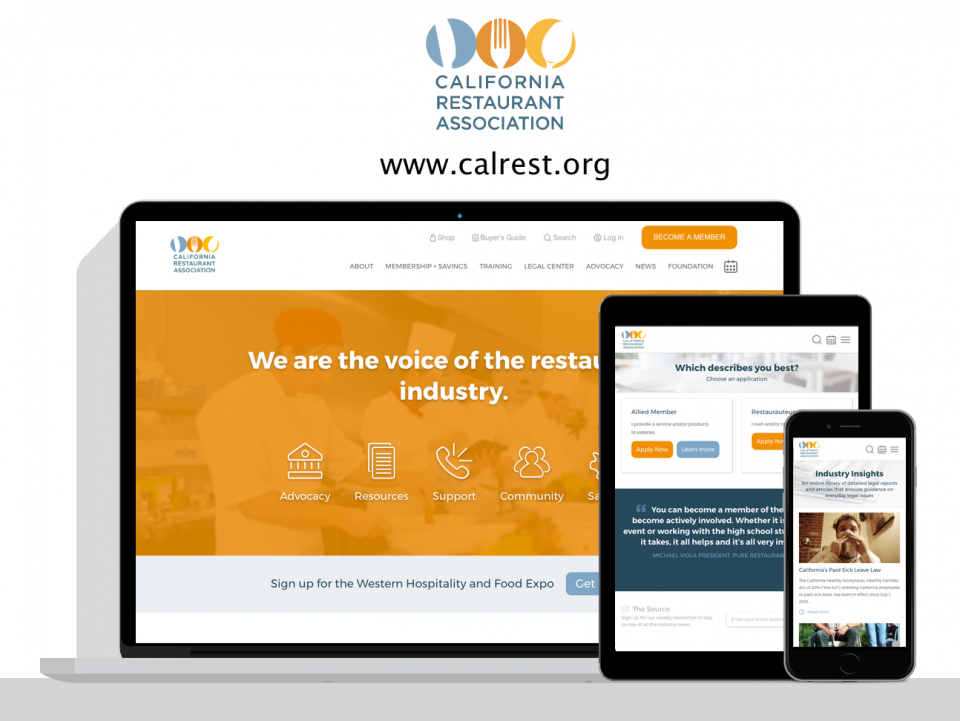 It has been a busy year, packed with exciting projects and too many new site launches to count. That said, the opportunity to work with California Restaurant Association (CRA) on their new website truly stood out.
CRA is the voice of the restaurant industry. They provide the advocacy, community, resources, and support needed to help restaurants thrive so we were honored when they reached out to us to completely revamp their association's website design.
Working closely with their leadership team and in-house design staff, we were able to break free of the constraints of their old CMS (content management system) and bring their exciting, new design to life. The result is both impactful and inspiring.
Here are a few of the things we love:
A design that immediately demonstrates who CRA is, and invites visitors to take action. Through the use of ambient video, fun icons, clear calls to action, custom illustrations, and stats, CRA's homepage helps visitors quickly understand their value and allows them to effortlessly take action.
Design patterns that allow their team to create a custom feel on any page. Using the principles of atomic design, we were able to bring key elements of the homepage and other key landing pages throughout the site, while still maintaining a cohesive user experience for both visitors and site editors.
Seamless integration with important third party tools. CRA is a member-focused organization, utilizing a number of third-party tools to provide key resources to their large member base. For this reason, we worked carefully with Weblink (member tools), Euclid (e-commerce) and more to make sure that their visitors could have a seamless user experience regardless or which tool they needed to access.
Working with the people at CRA was a dream…and not just because of all the catered meals ;) We're grateful to have had the opportunity to work together and look forward to every opportunity to collaborate with this team.
If you have a project with similar needs, let us know. We're always happy to help.