Bringing Home Within Reach
Stanford Youth Solutions' new website redesign helps families in crisis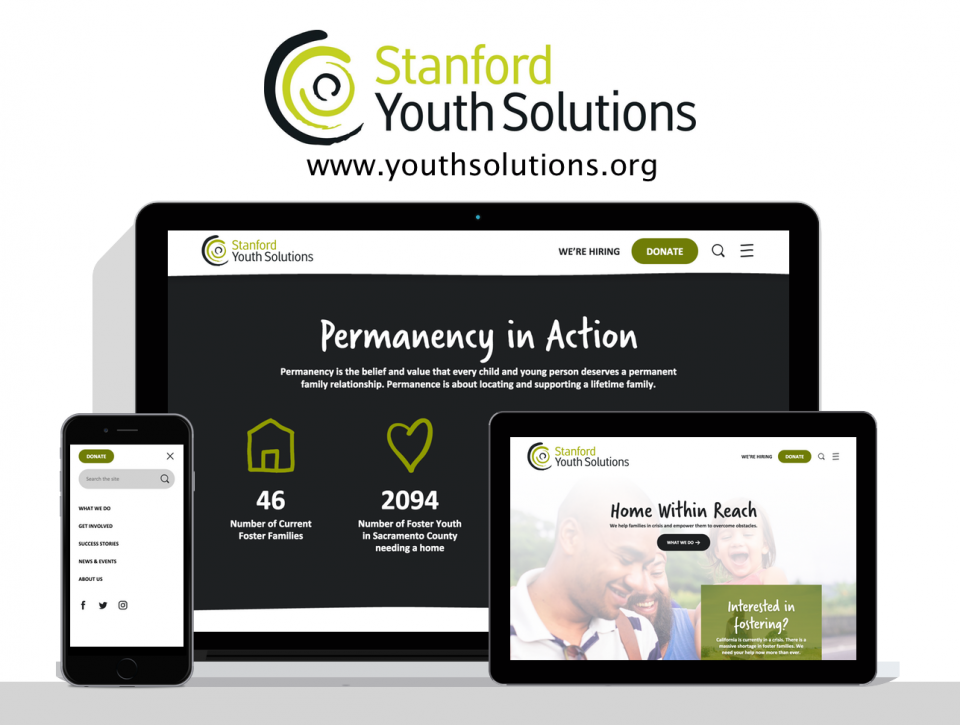 Stanford Youth Solutions is dedicated to helping families in crisis situations and empowering them to overcome obstacles. Specifically, the organization provides behavioral and mental health services for at-risk youth to help families stay together, or in some cases, help a youth find a new permanent home.
Their organization stands apart from its peers because of a highly professional, disciplined, and evidence-based approach, as well as its commitment to empowering staff with both technology and training. This was something we were able to experience first-hand when we attended their annual open house event. Seeing the staff speak passionately about each of their programs set the tone for this beautiful, impactful new website.
The work they do inspires us. So, when they recently reached out for a mobile-first, responsive redesign of their website, we couldn't wait to make it happen!
A few things we love about this site.
Modern and exciting – When we embarked on our discovery phase, their team made it clear they wanted a website that was as innovative as their approach. With that cue, we brought in full bleed imagery, tiled sections for latest news and success stories, slide-out menus, sticky headers, custom icons and more. The result feels as cutting-edge as their approach.
Infusing mission, impact, and emotion – In the new design we use imagery, typography and content strategy to bring to life the impact and emotion of the organization's important work. Throughout the website, their team tells the story of the programs they are implementing, the results they are accomplishing, and the lives they are changing so you can feel the effect of the work they do.
Calling visitors to action in all the right places – There are so many great ways to support this organization and the families they help, but the only way to truly prompt action is to place the "ask" in just the right place. Throughout the site, we've worked hard to create intuitive opportunities for visitors to learn more about fostering, support the organization through donation, or even join the team.
We've been honored to work with Stanford Youth Solutions for several years, both as their website provider and as participants in their "over the edge" fundraising campaigns. We are grateful to have worked with them on this project and are excited to see how it will impact the work that they do. If you've been considering a redesign with similar goals, let us know. We'd love to discuss how your website can make a difference.