Sierra College's new academics website empowers students to pursue their interests and achieve their dreams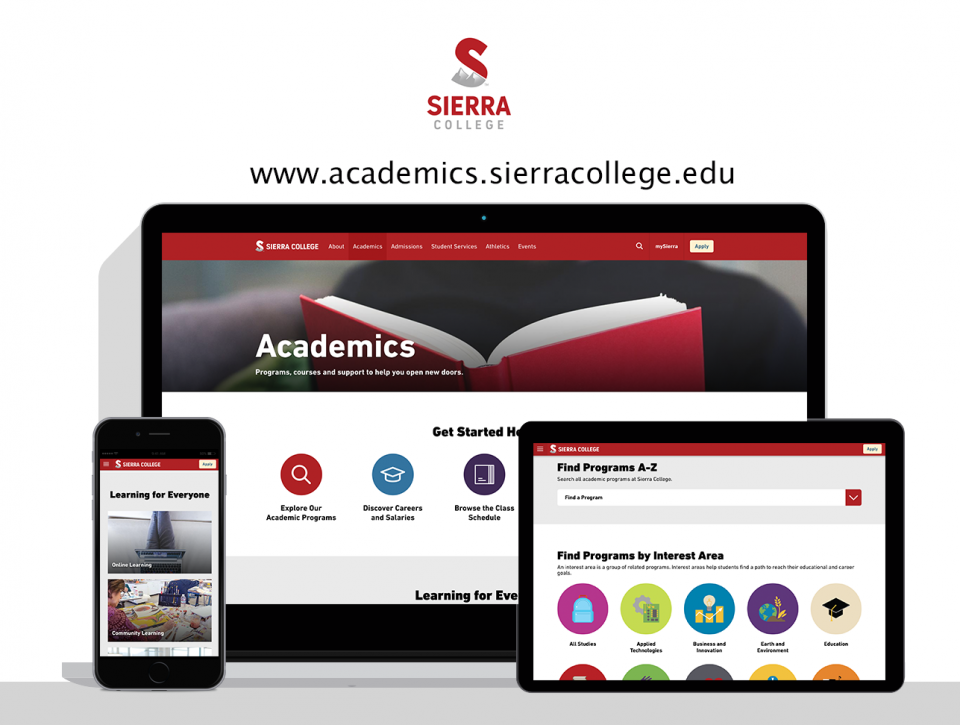 Offering a wide range of programs, degrees, certificates and courses, Sierra College supports a diverse community of over 18,000 students. Students choose Sierra because its academic offerings, quality, convenience, and committed staff make it the ideal place to supplement high school education, improve job skills, earn a certificate, pursue a degree, prepare to transfer to a four-year school, or simply engage in lifelong learning at an exceptional value.
The challenge
Sierra's counselors and academic staff are highly dedicated to empowering their students to discover their interests and achieve their dreams. However, the old website made it difficult for students to discover, research and plan their academic pathways.
Sierra College needed a tool that would allow their diverse student personas to explore programs by interest, degree offering, and potential salary in order to effectively chart their future online.
The Transformation
By working with Sierra's team to develop a deep understanding of student needs, we were able to introduce a completely revamped academics website that fits seamlessly within Sierra College's overall web presence. The new site features a custom-built academic program finder, key integrations with career coaching tools, and proactively connects students with top campus resources. Here are a few project highlights:
Helping students find the right program - Students can now find their ideal academic program by simply selecting an interesting area and browsing the options. Bold, colorful icons make the interface fun and highly visual so students are delighted as they spend time browsing available.
Providing career pathway advice – For students who aren't sure what they want to pursue, we integrated career coach tools which showcase potential job opportunities and corresponding salary ranges for a given field.
Offering a quick search tool for "laser students" – For students who already know their path and need quick access to research their program, we created a user-friendly search tool that will autocomplete their search or even act as a drop down, displaying all available options in mere seconds.
Enhancing discovery of non-traditional, non-degree education options – For students are interested in lifelong learning opportunities, we created quicklinks, spotlight sections and avenues for cross-pollination between programs.
Applying content strategy to program pages - In addition to revamping the program exploration process, we simplified and standardized academic program pages. As a result, they are now are quickly scannable, yet highly valuable planning resources for students in all stages of the education lifecycle.
We're so proud of what we were able to accomplish together with Sierra College and believe their new website will have a profound impact on both the student and staff experience.
Let's work together
If you have a project with similar needs, let us know. We'd love to learn more about it and walk you through a free demo or consultation.